Steamed fish with noodles & bok choy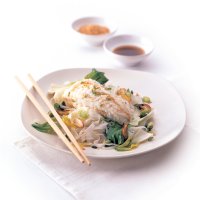 Steamed fish is really good for you, easy to make and full of flavour, particularly with a squeeze of Chinese BBQ sauce!
Serves: 2
What you need:
85g Blue Dragon Medium Rice Noodles
2 White fish fillets (e.g. cod, sole or monkfish)
2 tsp Blue Dragon Sesame Oil
1 tbsp vegetable oil
4 chopped heads bok choy / pak choi
2 spring onions cut into rounds
1 garlic clove, crushed
2cm piece fresh ginger, peeled and finely chopped
1 tbsp Blue Dragon Japanese Soy Sauce
345g Blue Dragon Chinese BBQ Squeezy Sauce
What you do:
Cook Blue Dragon Medium Rice Noodles as per the packet instructions, drain well and set aside.
Put two pieces of firm white fish onto a plate. Sprinkle with Blue Dragon Sesame Oil and then steam for 3-4 minutes until opaque.
Meanwhile heat the vegetable oil in a large wok and stir fry the spring onions, minced garlic and ginger and soy sauce for 1-2 minutes until the bok choy has just wilted.
Toss the noodles into the bok choy. Pile onto serving plates and lay a piece of fish over each and scatter with toasted sesame seeds to serve.
Serve alongside Blue Dragon Chinese BBQ Squeezy Sauce for an extra added flavour.
This page can be found at: http://secretsauce.co.uk/fish-seafood/chinese-recipes/steamed-fish-with-noodles/
A short link can also be used: http://bit.ly/i4D7VQ
Blue Dragon

Blue Dragon was created over 30 years ago to help British people create authentic Chinese dishes at home. Since then it's gone truly pan-Asian, with ingredients to help create delicious dishes from Thailand, Japan and Vietnam and expanding the Chinese range.
More from Blue Dragon

Cocktail sausages cooked in honey are popular finger food, but wait until you've tried these sweet chilli versions

Isn't curry Indian? Not in this recipe - it's Chinese and delicious with egg fried rice

A delicious and unusual recipe, this sticky plum and duck stir-fry is amazing served with beetroot crisps and pistachios