Wheaty raspberry smoothie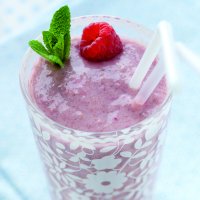 Having a delicious smoothie like this one for breakfast will boost your metabolism and energy levels and keep you going until lunch!
Preparation time: 5 minutes
Serves: 2
What you need:
150g raspberries
2 wholewheat biscuits (40g)
450ml semi skimmed milk
50g low fat yogurt
1 tbsp clear honey
What you do:
Place all the ingredients in a smoothie maker or food processor and blend until smooth.
Pour into 2 tall glasses and serve chilled.
Handy hint:
Any soft fruit combination such as strawberries, blueberries or blackberries can be used to replace the raspberries or use flavoured yogurt for extra flavour.
This page can be found at: http://secretsauce.co.uk/drinks/smoothie-recipes/wheaty-raspberry-smoothie/
A short link can also be used: http://bit.ly/dM7nH5
Farmhouse Breakfast Week

If your 'get up and go' leaves you just when you need it first thing in the morning - think breakfast. That's the message from the HGCA, organisers of Farmhouse Breakfast Week (25-31 January 2009). To celebrate the nation's most essential meal of the day, a selection of new breakfast recipes has been created for Farmhouse Breakfast Week 2009, available in a new recipe booklet and online.
More from Farmhouse Breakfast Week

If you're sporty or need a good breakfast before going to the gym or doing other exercise, this staffordshire oatcakes with eggs dish will keep you full of energy

Get your brain going and ready for the day with this delicious marmalade porridge breakfast

Who can resist the smell of a freshly-baked loaf? And this wholemeal cottage loaf is good for your figure too!
Popular in smoothie recipes

A delicious, healthy smoothie with a ginger kick

This super quick detox smoothie is low in saturated fat and perfect to kick-start your morning

So delicious and healthy too!