Strawberry smoothie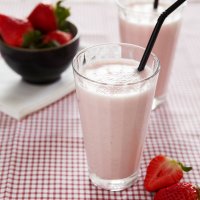 Indulge that sweet tooth with this refreshing strawberry smoothie packed full of succulent strawberries.
Preparation: 10 mins
Serves: 1
What you need:
100ml natural yoghurt
100ml milk
100g Viva strawberries, chopped
1tbsp agave nectar
What you do:
Place the yoghurt, milk strawberries and agave nectar into a liquidizer and blitz until smooth. Serve immediately.
Cook's tip:
Please credit www.vivastrawberry.co.uk
This page can be found at: http://secretsauce.co.uk/drinks/smoothie-recipes/strawberry-smoothie/
A short link can also be used: http://bit.ly/1dSwDTv
Viva Strawberry
More from Viva Strawberry

Macaroons are the perfect dessert to follow a romantic dinner - the perfect treat!

Viva strawberries and chocolate are a match made in heaven and make a delicious treat and a healthier alternative to a bar of chocolate.

Making delicious homemade ice-cream doesn't have to be difficult thanks to this easy strawberry ice-cream
Popular in smoothie recipes

A delicious, healthy smoothie with a ginger kick

This super quick detox smoothie is low in saturated fat and perfect to kick-start your morning

So delicious and healthy too!