Pineapple vanilla sorbet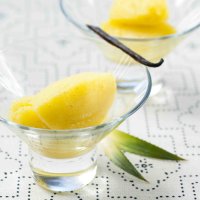 As well as ice cream, you can easily use Rice Dream in sorbets too. This one is unusual and packed with tropical flavour - a refreshing way to end a summer meal.
Preparation: 10 mins
Cooking: 10 mins
Serves: 6
What you need:
1 pineapple
1/2 vanilla pod
200ml Vanilla Rice Dream
Shredded mint leaves, to decorate
What you do:
Peel the pineapple and cut into cubes.
Cut the vanilla pod lengthways and, using the tip of a knife, scrape out the tiny black seeds.
Put the cubed pineapple, vanilla seeds and Rice Dream in a blender. Blend until smooth.
Empty the contents of the blender into a freezer-safe tub and freeze for 4 hours. While freezing, stir the sorbet with a spoon every 30 minutes.
Or empty the blender contents into a sorbet maker and stir to achieve the desired consistency. Serve with a few shredded mint leaves.
This page can be found at: http://secretsauce.co.uk/cakes-desserts/pineapple-recipes/pineapple-vanilla-sorbet/
A short link can also be used: http://bit.ly/gyRrTm
Rice Dream

Rice Dream is a delicious, easy to digest alternative to dairy and soya milks. Made from the finest Italian rice, it is naturally lactose free and low in fat. And it contains no artificial additives of any kind. Use it just like milk. Enjoy it on your favourite breakfast cereals, in tea and coffee, or as a refreshing chilled drink.
More from Rice Dream

So delicious and healthy too!

Muffins don't have to be sweet: these savoury ones are irresistible!
Popular in pineapple recipes

Chilli and pineapple? Trust us it works. This recipe's by Rowley Leigh, proprietor of Café Anglais, on behalf of Schwartz Flavour Forecast