Fruity smoothie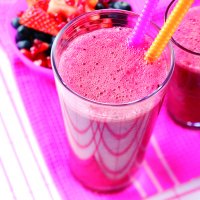 Bursting with flavour, vitamins and antioxidants this smoothie will give you a real kick-start.
What you need:
1 banana
150g blueberries
175g strawberries
600ml pomegranate juice
What you do:
Blend together the banana, blueberries, strawberries and pomegranate juice in a blender or smoothie maker and serve immediately.
Add crushed ice for a seriously cooling smoothie on a hot summers day.
This page can be found at: http://secretsauce.co.uk/drinks/smoothie-recipes/fruity-smoothie/
A short link can also be used: http://bit.ly/hLqEru
Patak's

Patak's - Be inspired by over 150 Indian recipes to help you create authentic, delicious meals at home.
More from Patak's

An Indian meal wouldn't be complete without the traditional onion bhajis and they take just 25 minutes to prepare and cook

This recipe is a wonderful starter or snack and taste great with homemade dips. It can easily be made for vegetarians by substituting the lamb with mashed potatoes.

One of the world's most popular Indian dishes is chicken korma, famous for its mild and creamy taste - replace the chicken with prawns if you wish
Popular in smoothie recipes

A delicious, healthy smoothie with a ginger kick

This super quick detox smoothie is low in saturated fat and perfect to kick-start your morning

So delicious and healthy too!