Beetroot, pink lady & grapefruit juice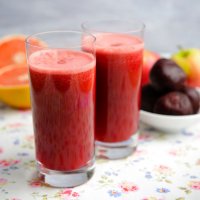 Get your day off to the best start with a healthy, vitamin-packed drink
What you need:
1 pack of vacuum packed natural cooked beetroot
2 Pink lady apples
1 peeled grapefruit
What you do:
Put through a juicer.
Pour in to glasses and serve.
Cook's tip:
There's no need to core or peel the apples - the juicer does it all for you!
This page can be found at: http://secretsauce.co.uk/drinks/smoothie-recipes/beetroot-pink-lady-and-grapefruit-juice/
A short link can also be used: http://bit.ly/PdBZQi
lovebeetroot

Beetroot is enjoying something of a revival as people discover there's more to this great British vegetable than they thought. You can now buy beetroot in so many different ways – raw, cooked, marinated, lightly pickled - there's so much to beetroot than the jar of pickled beetroot many of us will remember from our childhood.
More from lovebeetroot

The infused beetroot in this dish makes for a lively and flavour-packed lunch. The sweet potato will keep you going right through the afternoon.

A delicious, healthy smoothie with a ginger kick

The aromatic taste of juniperberry & black pepper-infused beetroot is wonderful tossed through this salad which makes for a substantial lunch or light supper.
Popular in smoothie recipes

Need some get up and go in the morning? This smoothie is just what you need. Ready, steady...

This super quick detox smoothie is low in saturated fat and perfect to kick-start your morning

So delicious and healthy too!