By the fireside cocktail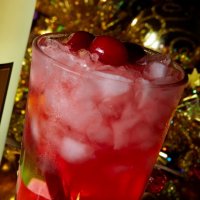 Created by the expert mixologist at Shaken and Stirred, Oxford, this is a cocktail inspired by chilly winter evenings. Freixenet Sparkling Oro By The Fireside uses Freixenet's latest easy drinking Cava, Freixenet Cordon Oro and combines it with seasonal blood oranges, cranberries, and a hit of warmth from Cognac with an extra touch of sweetness from the honey - perfect for drinking cuddled up by a log fire.
What you need:
25 ml Cognac
2 wedges blood orange
2 wedges lime
1 teaspoon clear honey
25 ml cranberry juice
Freixenet Cordon Oro
What you do:
Muddle the orange and lemon with the Cognac and honey
Add the cranberry juice and stir
Add crushed ice
Top with Freixenet Cordon Oro
Cook's tip:
Serve in a highball and garnish with a few cranberries for a fabulous festive fizz cocktail
This page can be found at: http://secretsauce.co.uk/drinks/christmas-recipes/by-the-fireside-cocktail/
A short link can also be used: http://bit.ly/rSD6bK
Freixenet

Based in Catalonia in Spain, Freixenet is the world's leading producer of sparkling wine. Founded in the 19th century, it remains a family owned business, but with an impressive portfolio of still and sparkling wine interests worldwide. Freixenet is available from leading supermarkets and all good off-licences. Freixenet Cordon Negro, Cordon Rosado and Cordon Oro are price £9.49. Elyssia Pinot Noir and Elyssia Gran Cuvé are available from Waitrose price £17.99. For more information, visit: www.Freixenet.co.uk.
More from Freixenet

Everyone loves a jelly - especially Jo Pratt's very sophisticated adult version with Freixenet Cava.

Jo Pratt's fruity dessert is fun to make and a delight to eat. These individual syllabubs are summer in a glass.

Jo Pratt's recipe is a real star at social gatherings - it looks impressive and yet couldn't be simpler
Popular in christmas recipes

Simple, chic and elegant, Freixenet Rosado Under The Mistletoe mixes Freixenet's fruity pink Cava with grape juice to create a refreshing, sophisticated, bubbly cocktail ideal to be enjoyed under the mistletoe.