The great pink cooler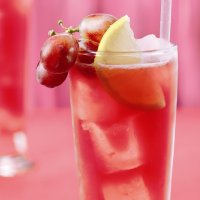 Pomegranate juice is the new cranberry of the cocktail world. Pomegreat is adaptable, delicious and packed with antioxidants and vitamins. Its fantastic garnet colour gives maximum effect for cocktails and it complements vodka, gin and rum.
What you need:
50ml vodka
50ml Pomegreat pomegranate juice
50ml rose wine
5ml passionfruit syrup
5ml grenadine
10ml lemon
20ml sugar
4 red grapes
What you do:
Lightly muddle grapes with sugar, add all the ingredients and shake together.

Serve in a Catalina glass topped with cubed ice.

Garnish with straw and red grapes
Cocktail created by Sam Jeavons at Match Bar
This page can be found at: http://secretsauce.co.uk/drinks/alcoholic-cocktail-recipe/pomegranate-pink-cooler-cocktail/
A short link can also be used: http://bit.ly/fzKzV2
Pomegreat

Refreshing, delicious and healthy - the
Pomegreat
range of pomegranate super juice drinks is an easy way to enjoy the great taste and health benefits of the pomegranate fruit.
More from Pomegreat

Full of vitamins and counting towards your five a day, this delicious cocktail is a refreshing fruity summer drink

Halloween doesn't have to just be about kids! Throw a Halloween party and serve these spooky vodka cocktails to get the party started

Make everyone a real treat this Halloween with a fantastic spooky punch and there's no trick involved in making it either!
Popular in alcoholic cocktail recipe

A blast from the past goes Cuban! A slightly more sophisticated version of that Latin crushed ice favourite.

This refreshing gin fizz cocktail was created exclusively for Jacksons of Piccadilly by food writer Ghillie James

I bet it's a while since you tasted a gooseberry and there's no better way to refresh your memory than with this lovely gooseberry mojito