Pink flower cocktail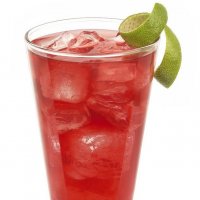 Full of vitamins and counting towards your five a day, this delicious cocktail is a refreshing fruity summer drink
What you need:
100 gms fresh strawberries
100 gms fresh raspberries
100 gms fresh blueberries
200 mls chilled Pomegreat Ruby Orange juice
Crushed ice
Mint leaves
What you do:
Place all the fruit in a jug and roughly crush with a wooden rolling pin
Place the fruit, sugar, cranberry or pomegranate juice and ice in a cocktail shaker and shake well.
Pour into glasses and serve garnished with mint leaves.
This page can be found at: http://secretsauce.co.uk/drinks/non-alcoholic-cocktail/orange-strawberry-cocktail/
A short link can also be used: http://bit.ly/gNV0zd
Pomegreat

Refreshing, delicious and healthy - the
Pomegreat
range of pomegranate super juice drinks is an easy way to enjoy the great taste and health benefits of the pomegranate fruit.
More from Pomegreat

Halloween doesn't have to just be about kids! Throw a Halloween party and serve these spooky vodka cocktails to get the party started

Make everyone a real treat this Halloween with a fantastic spooky punch and there's no trick involved in making it either!

The Great Pink Cooler is a refreshing cocktail with a tang of lemon lying on top of pomegranate and raspberry flavours - simply delicious
Popular in non alcoholic cocktail

A light, refreshing summery flavour with a zesty twist.

A delicious delicately spiced orange 'mocktail' perfect for the festive party season

A delicious and warming 'mocktail' perfect for the Christmas party season