Classic Christmas forest fruit trifle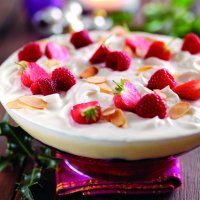 Many people simply don't like Christmas pudding, but to make sure they don't go without, why not make them this lovely forest fruit trifle instead?
Serves: 6-8
What you need:
1 x 135g strawberry flavoured jelly
175g jam swiss roll
4tbsp sherry (optional)
350g frozen fruits of the forest, defrosted
525g carton Alpro soya alternative to custard
250g Alpro soya chilled alternative to cream
200ml Alpro soya alternative to plain yogurt
100g fresh berries (e.g. strawberries and raspberries)
15g toasted flaked almonds
4 tbsp Sherry optional
What you do:
Make up the jelly according to the packet instructions, using 450ml water. Allow to cool
Cut the swiss roll into 8 even slices and arrange in a large serving bowl. Sprinkle over the sherry, if using. Top with the fruits of the forest and pour over the cooled jelly. Refrigerate for about one hour or until the jelly has set
Pour the Alpro soya alternative to custard over the jelly and smooth over. Place the soya cream in a large bowl and whisk for 2-3 minutes until light, airy and slightly thickened. Whisk in the plain soya yogurt. Spoon this over the custard to cover, making a swirling pattern
Decorate the trifle with the fruit and almonds and serve
Handy tip:
For a vegetarian jelly you can use Vege-gel, which is available in supermarkets. Use one sachet of the Vege-gel with 450ml of fruits of the forest or cranberry juice. Make up according to the packet instructions.
This page can be found at: http://secretsauce.co.uk/cakes-desserts/trifle-recipes/classic-christmas-forest-fruit-trifle/
A short link can also be used: http://bit.ly/gq4I0r
Alpro Soya

Alpro Soya creates delicious products for you to enjoy any time of the day. Made from the goodness of the whole soya bean, they are prepared with care and with the utmost respect for people and planet.
More from Alpro Soya

Don't just boil those potatoes - make them a dish in itself with this delicious traditional recipe

Looking for a vegetarian alternative for Christmas dinner? Try this traditional and delicious nut roast

Start the day with this substantial breakfast that will give you enough energy to last until lunchtime
Popular in trifle recipes

There's something so nostalgic about a trifle - these delicious individual ones will delight friends and family and bring back fond memories

An indulgent dessert with a creamy texture and a fruity tang