Tiramisu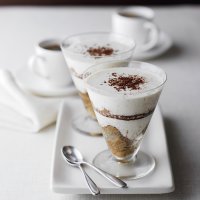 A true classic recipe - this one is made simple with Carnation. Normally you have to whisk egg whites etc - but this one sets perfectly without and has a lighter texture than most recipes
Serves: 4
Preparation time: 25 minutes
Chilling time: At least 1 hour
What you need:
3tsp Nescafe Espresso powder
5tbsp cold water
3tbsp coffee liqueur
300g tub low fat cream cheese
6tbsp Carnation Condensed Milk
1tsp natural vanilla extract (not essence)
8 sponge fingers
15g (½oz) cocoa
You will also need:
4 pretty cocktail or open wine glasses
What you do:
Dissolve the coffee granules in 2tbsp boiling water. Tip into a large shallow dish with the coffee liqueur and the cold water. Mix together.
Beat the cream cheese with the condensed milk and vanilla.
Dip one sponge finger into the coffee mixture until soaked. Break the sponge into the bottom of one of the glasses. Top with a generous spoonful of the custard and a generous sprinkling of cocoa. Repeat the layers once more, finishing with the cocoa dusting. Use the remaining mixture to fill the other 3 glasses. Chill for at least 1 hour before serving.
Handy cook's tip
You could make one large tiramisu and serve with some fresh peaches and raspberries.
This page can be found at: http://secretsauce.co.uk/cakes-desserts/tiramisu-recipes/tiramisu/
A short link can also be used: http://bit.ly/gwPL5U
Nestlé Carnation

Do you long to make beautiful, delicious puddings to impress your friends and family but lack the time and confidence? Well, help is at hand! The
Carnation
range of products is the short and deliciously sweet route to dessert heaven…
More from Nestlé Carnation

This quick-setting light textured cheesecake is the perfect answer to an alternative to the richness of Christmas pudding...

Creamy and delicious, these rum and raisin brulees are the creme de la creme of desserts - perfect as an alternative for Christmas pudding!

These mini desserts are perfect to serve up for a dinner party - what could be better than individual version of banoffee pies?