Nick Nairn's summer pudding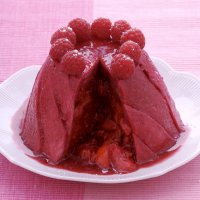 A delicious summer dessert using ripe and juicy raspberries and strawberries.
What you need:
500g Good Natured raspberries
75g caster sugar
Juice of half a lemon
50ml creme de cassis
350g Good Natured strawberries, hulled and quartered
9 slices good quality white bread, crusts removed
Double cream, whipped, or clotted cream, to serve
What you do:
Take a large pan and add 150g of the raspberries, the sugar, lemon juice and creme de cassis. Place over a medium heat and bring to a gentle simmer, stirring until the sugar is dissolved.
Add the remaining raspberries and the strawberries and turn up the heat. When bubbling, take off the heat and strain through a colander set over a bowl to catch the juice. Leave to cool.
To make the pudding, you'll need a 1 litre Pyrex bowl. Take 1 slice of bread and cut out a circle big enough to cover the bottom of the bowl. Take a further six slices and cut them in half diagonally, so that you're left with 12 triangles. Dunk the circle in the reserved fruit juices and place in the bottom of the bowl. Then dunk one of the triangles in the juices and stick on the side of the bowl, point side down and slightly overlapping the bottom circle. Now start adding the other triangles, again, dipping them in the juice, and placing, point side down, around the sides of the bowl. Have them over-lapping slightly so that they all merge together. When finished, the bowl should be completely lined with the bread.
Pile the fruit into the bowl. Dip the final slices of bread in the juice and lay them on top, again have them overlapping slightly. Trim any excess.
Take a plate or saucer (smaller than the diameter of the bowl) and place on top of the pudding, face-side down. Press it a little to start squeezing everything together, then sit two cans of baked beans on top, and put the whole thing in the fridge, preferably overnight, but for at least a couple of hours.
When ready to serve, turn the pudding out carefully and cut into wedges. Serve with big dollops of double or clotted cream.
This page can be found at: http://secretsauce.co.uk/cakes-desserts/strawberry-recipes/nick-nairns-summer-pudding/
A short link can also be used: http://bit.ly/muk6aW
Good Natured
Good Natured produce pesticide residue free fruit and vegetables.
More from Good Natured

An impressive fruity dessert that's very quick and easy to make

A delicious, low-calorie sweet treat

A satisfying and warming accompaniment to a main course
Popular in strawberry recipes

Macaroons are the perfect dessert to follow a romantic dinner - the perfect treat!

Viva strawberries and chocolate are a match made in heaven and make a delicious treat and a healthier alternative to a bar of chocolate.

These just look so good, don't they? And they're easy to make and delicious too