Spuds with parsley pesto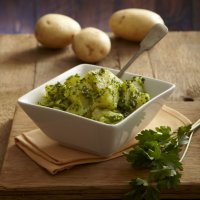 A quick, healthy and very tasty dish.
Cooking: 20 mins
Serves: 4
What you need:
550g Good Natured Splendid Spuds, peeled and chopped
15g Good Natured Fantastic Flat Leaf Parsley
1 clove garlic, peeled and chopped
15g pumpkin seeds
10g Parmesan, grated
2 1/2 tbsp olive oil
What you do:
Cook the spuds in a pan of boiling water for 13-15 minutes, until tender.
Meanwhile, place the remaining ingredients in a small blender and blend until nearly smooth.
Drain the potatoes, then return to the pan and gently toss in the parsley pesto.
This page can be found at: http://secretsauce.co.uk/vegetarian/pesto-recipes/spuds-with-parsley-pesto/
A short link can also be used: http://bit.ly/pp0htg
Good Natured
Good Natured produce pesticide residue free fruit and vegetables.
More from Good Natured

An impressive fruity dessert that's very quick and easy to make

A delicious, low-calorie sweet treat

A satisfying and warming accompaniment to a main course