Onion & potato gratin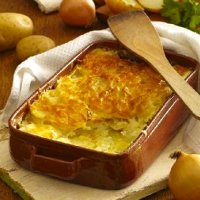 A satisfying and warming accompaniment to a main course
Cooking: 75 mins
Serves: 6
What you need:
50 g butter, melted
1 kg Good Natured Splendid Spuds, peeled
2 Onions, peeled and sliced
Seasoning
60 g Manchego cheese, grated
4-6 sprigs of thyme
300 ml single cream
What you do:
Preheat the oven to 190°C (375°F) Gas Mark 5. Brush an ovenproof dish with some of the melted butter.
Slice the potatoes very thinly and place in a bowl of cold water. Drain and dry in a tea towel.
Layer the potatoes with the onion, adding seasoning and thyme after each layer. Season and drizzle each layer with a little melted butter.
When you have used half the potato and onion, add a layer of a third of the grated cheese.
Finish layering with the potato on top.
Pour over the cream, cover with foil and bake for 45 minutes.
Remove the foil, sprinkle over the remaining grated cheese and bake for a further 30 minutes, until bubbling and golden.
This page can be found at: http://secretsauce.co.uk/vegetarian/gratin-recipes/onion-and-potato-gratin/
A short link can also be used: http://bit.ly/SFMb9h
Good Natured
Good Natured produce pesticide residue free fruit and vegetables.
More from Good Natured

An impressive fruity dessert that's very quick and easy to make

A delicious, low-calorie sweet treat

A quick, healthy and very tasty dish.
Popular in gratin recipes

Can you believe this only costs £3.90 to make for four to six people? It does! And don't forget to check out our great tip for saving money on mushrooms

Butternut squash and sliced potatoes cooked in a creamy cheese sauce - perfect served with a mixed salad or as an accompaniment to Christmas turkey or nut roast