Plum stromboli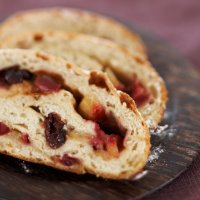 Gorgeous fruity bread that can be made from start to finish in just over 1 hour so get baking!
Serves: 12
What you need:
350g (12oz) Allinson Very Strong White Bread Flour
large pinch of salt
7g sachet Allinson Easy Bake Yeast
25g (1oz) Billington's Golden Caster sugar
75g (3oz) unsalted butter
275ml (9fl oz) warm water
For the filling:
400g (14oz) plums
75g (3oz) dried sour cherries
75g (3oz) Billington's Light Muscovado sugar
2 tsp ground mixed spice
3 tbsp milk for brushing
3 tbsp Billington's Golden Icing sugar, for dusting
What you do:
Put the flour into a large bowl with the salt, Easy Bake Yeast and Golden Caster sugar. Melt 25g (1oz) butter in a small pan or in the microwave on High for 30 seconds.
Pour the melted butter and warm water into the flour and yeast, mix together to make a soft dough.
Turn onto a floured surface and knead for 5 minutes until the dough is smooth and elastic. Put into a lightly oiled bowl, cover with cling film and leave in a warm place to rise for 20 minutes.
Meanwhile, quarter and slice the plums, removing the stone, mix together with the plums, soured dried cherries, Light Muscovado sugar and ground mixed spice.
Turn the dough onto a lightly floured piece of greaseproof paper, knead for 1 minute then roll out into a 33cm (13inch) square. Sprinkle over the sugar coated fruit and dot with small knobs of the remaining butter. Lift the base of the paper to help roll up the dough, Swiss-roll style to enclose the filling. Pinch the ends together to seal and put onto a baking sheet with edge underneath.
Cover lightly with greased cling film and leave it to prove in a warm place for 20 minutes to rise. Preheat the oven to 220ºC/fan 200ºC/ gas mark 7. Brush with milk to glaze and bake, bake for 15 minutes, then reduce the oven setting to 180ºC/fan 160ºC/gas mark 4 and bake for 25 more minutes until golden brown. Dust with sieved icing sugar. Serve warm or cold, sliced.
This page can be found at: http://secretsauce.co.uk/cakes-desserts/plum-recipes/plum-stromboli/
A short link can also be used: http://bit.ly/dJH0Ky
Baking Mad

Baking Mad - with recipes and baking ideas, it's the place for everything you ever wanted to know about baking.
More from Baking Mad

Just look at the fantastic colour of the icing on these fairy cakes - and there's not a hint of food colouring in sight

The longer you soak the fruit for these Christmas cakes, the better the flavour will be. Then make the cake a few days before for a moisty gorgeous spongy texture. Heavenly!

Forget the traditional Cornish pasty, this sweet potato, smoked cheese and squash version is twice delicious!
Popular in plum recipes

A tasty dessert recipe, ideal for dinner parties and perfect for an alternative Christmas pud!

Making pastry in a food processor makes it much easier to put together this plum and bilberry pie and the results are great!