Pear & berry cobbler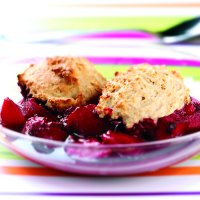 A cobbler is a scrumptious variation on a pie or crumble. Traditionally the 'cobble' topping is made from a scone dough but this one contains buttermilk and has a lovely light texture and crusty surface.
Preparation: 15 minutes
Cooking time: 30 minutes
Serves: 6
What you need:
6 ripe pears, about 1kg, peeled, cored and diced
250g frozen autumn or summer berries
75g golden caster sugar
For the cobbles:
100g plain flour
125g wholemeal flour
50g rolled or porridge oats, plus 1 tbsp for sprinkling
25g golden caster sugar
1 tsp bicarbonate of soda
1 tsp baking powder
1/2 tsp salt
50g butter, melted
240ml buttermilk
What you do:
Preheat the oven to 180C/Gas 4. Toss together the pears, berries and sugar in a large saucepan. Bring to the boil and simmer uncovered for 15 minutes. Spoon into an ovenproof dish.
Stir together the dry ingredients. Make a well in the centre and add the butter and buttermilk then mix together to make a sticky dough.
Drop large spoonfuls of the dough onto the fruit, scatter over the reserved oats then bake for 30 - 35 minutes until the crust is golden brown and the fruit is tender. Serve warm with a scoopful of vanilla ice cream.
Handy tip:
- Buttermilk give the cobbles a lovely flavour and texture but if you have difficulty finding it, mix together a 150g carton of low fat yogurt and 90ml of milk for a good subsitute.
- Bramley apples are a cooking apple and they have a wonderful tart flavour and pulp down brilliantly which makes them the ideal choice for apple sauces and purees. Although they are seasonal they can usually be found most of the year and can be used in this recipe instead of the pears - for 1kg you will need to use 150g sugar.
This page can be found at: http://secretsauce.co.uk/cakes-desserts/pear-recipes/pear-and-berry-cobbler/
A short link can also be used: http://bit.ly/fcxBrM
Wholegrain goodness

Wholegrain Goodness
is an independent campaign which aims to raise awareness of the health benefits and versatility of wholegrains.
More from Wholegrain goodness

With wholewheat spaghetti, low-fat cheese and semi-skimmed milk, this recipe is healthy and you can add your own favourite ingredients to it too

Contains three of your five-a-day plus two servings of wholegrain per person. The recipe is low in saturated fat and salt.

Delicious and healthy - yes, the two can go together in this lovely granola dessert topping
Popular in pear recipes

Sweet and juicy pears with sticky maple syrup make the perfect romantic dessert for two

Poached pear recipes are always popular. This one is distinguished by the addition of ginger.

Surprise your guests with this gorgeous tart - Billington's Dark Muscovado Sugar makes this dark cinnamon pastry intriguingly different