Creepy cup cakes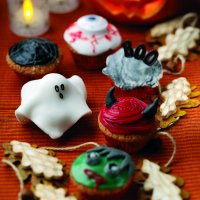 These creepy cup cakes are perfect for Halloween parties, or why not make some ready for the trick or treaters?
What you need:
250 grams Unsalted Butter
250 grams Billington's Golden Caster Sugar
250 grams Allinson Nature Friendly Self Raising Flour
1 tsp Baking Powder
4 Happy Eggs
Silver Spoon Create White Ready To Roll Icing
Silver Spoon Create Black Food Colour
Silver Spoon Create Black Designer Icing
What you do:
Preheat the oven to 170 C, fan 150 C, 325 F, Gas Mark 3.
Line a muffin tray with 18 cupcake paper cases.
Place the butter, golden caster sugar, flour, baking powder and eggs into a mixing bowl. Beat together with an electric mixer until the mixture is pale and fluffy. (This could take up to 5 minutes)
Spoon the mixture into the cupcake paper cases. Bake for 20 minutes until golden brown.
Remove from the oven and allow to cool before decorating.
This page can be found at: http://secretsauce.co.uk/cakes-desserts/cup-cake-recipes/creepy-cup-cakes/
A short link can also be used: http://bit.ly/qcAX37
Billington's

A good recipe requires the best ingredients and when it comes to sugar this means Billington's unrefined cane sugars. Billington's unrefined sugars are very simply produced with the aim of locking in rather than refining out the natural molasses of the sugar cane. It is this difference that give unrefined sugar its superior flavour and natural colour.
More from Billington's

The perfect sweet treat for festive foodies!
Popular in cup cake recipes

Delicious cupcakes decorated with vanilla buttercream and beautiful decorations

Feed the nation's love for cupcakes with a freshly baked batch of lemon and honey cupcakes

A gorgeous cupcake perfect for summer - light and fruity!