Summer salad of British greens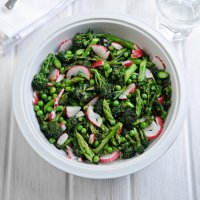 This is a wonderful, healthy salad to try when the season for fresh, British greens begins. By not blanching the green vegetables too much, you will still taste the delicious, crisp texture and freshness
Preparation: 20 mins
Cooking: 10 mins
Serves: 4
What you need:
400g fresh purple sprouting broccoli
300g asparagus
200g fresh radish
200g fresh podded peas
100g sesame seeds
50ml rapeseed, grapeseed or other vegetable oil
Zest and juice of 1 lime
2 tbsp soya sauce
1/2 tsp sugar
Sea salt and pepper
What you do:
Firstly prepare the vegetables. Wash and trim the purple sprouting broccoli, the asparagus and the radish. Slice the broccoli and asparagus into 3 cm pieces, and slice the radish thinly. Place the radish in a bowl of cold water.
Using a double layered steamer, boil some water and steam the purple sprouting broccoli, the asparagus pieces and the peas for approximately 5-7 minutes. The vegetables should be quite tender, but still green and slightly crisp. Remove the vegetables from the steamer and set aside to cool on a clean preparation tray.
In a little jug mix together the sesame seeds, rapeseed oil, zest and juice of the lime, the soya sauce, sugar, a pinch of sea salt and a generous grating of black pepper.
In a roomy salad bowl, mix together the steamed purple sprouting broccoli, asparagus and peas. Add the drained radish slices.
Add the soya and lime dressing. Toss the salad well. Serve.
This page can be found at: http://secretsauce.co.uk/vegetarian/salad-recipes/summer-salad-of-british-greens/
A short link can also be used: http://bit.ly/ltQzII
Skandi Candle
Pure soy wax candles in Flack Fig & Vetiver or Lemon fragrances - perfect for any dinner party or romantic night in.
Love Your Greens
Love Your Greens
is dedicated to the finest, tastiest, healthiest British veg money can buy - cauliflower, broccoli, cabbage, swede and sprouts.
Popular in salad recipes

Dean says: 'This makes a fantastic veggie meal and it's ready in less than 15 minutes!'

If you're looking for a really healthy salad for a light lunch, this one will fill you up with goodness!

You can't accuse this salad of being boring - the couscous with a medium spice curry flavour give it a real kick