Spinach & green pea patties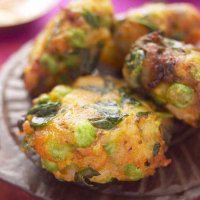 These medium spicy patties are perfect to serve with your Indian meal and will also go towards your five a day!

Indian name: Hara Bhara Kebab
Heat rating: 3
Serves: 4
Preparation time: 40
Cooking time: 20
What you need:
4 medium sized potatoes, diced and boiled
100g green peas, cooked
100g spinach leaves
1 tbsp fresh coriander, chopped
1 heaped tbsp Patak's Rogan Josh Curry Paste
2 tbsp cornflour
salt to taste
oil to deep fry
What you do:
Mash the boiled potatoes with the peas.
Blanch the spinach leaves in boiling water, refresh in cold water, squeeze out any excess moisture and finely chop.
Mix the potato and pea mixture with the spinach.
Add the chopped coriander and Patak's Rogan Josh Curry Paste. Add the cornflour to bind and mix well. Add salt if required.
Divide the mixture into 24 equal portions. Shape each portion into a ball and then press it between your palms to give it a flat, patty shape.
Heat enough oil in a pan or wok to deep fry. Deep fry the patties in hot oil for 3 - 4 minutes. Serve hot with Patak's Raita or Patak's Kashmiri Chilli Table Sauce.
This page can be found at: http://secretsauce.co.uk/vegetarian/indian-recipes/spinach-and-green-pea-patties/
A short link can also be used: http://bit.ly/fZFja9
Patak's

Patak's - Be inspired by over 150 Indian recipes to help you create authentic, delicious meals at home.
More from Patak's

An Indian meal wouldn't be complete without the traditional onion bhajis and they take just 25 minutes to prepare and cook

This recipe is a wonderful starter or snack and taste great with homemade dips. It can easily be made for vegetarians by substituting the lamb with mashed potatoes.

Share these colourful, tasty dips and salsas with friends - perfect for eating al fresco
Popular in indian recipes

An Indian meal wouldn't be complete without the traditional onion bhajis and they take just 25 minutes to prepare and cook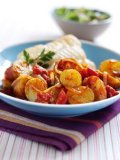 A delicious side dish to serve with any curry or Indian meal

Share these colourful, tasty dips and salsas with friends - perfect for eating al fresco