Jewelled rice salad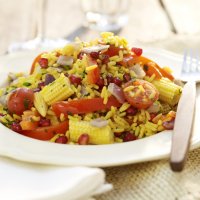 This rice salad not only looks lovely, it tastes fantastic too! The 'jewel' ingredient is pomegranate seeds, which add a delicious sweetness to the recipe
Serves: 2
Prep/cooking time: 15 minutes
What you need:
1 x 250g pack Uncle Ben's® Express Pilau Rice
1/2 tbsp olive oil
1/2 small red onion, sliced
1/2 red pepper, deseeded and sliced
40g (1 1/2 oz) baby corn, cut into 1 cm pieces
40g (1 1/2 oz) cherry tomatoes, quartered
40g (1 1/2 oz) pomegranate seeds
1/2 tbsp freshly chopped mint
1/2 tbsp freshly chopped parsley
What you do:
Heat the rice according to the pack instructions then pour into a bowl and fluff up. Leave to
cool slightly.
Heat the olive oil in a pan and sauté the onion and red pepper for 3-4 minutes before adding
the corn. Stir-fry for 3-4 minutes then stir into the rice.
Add the remaining ingredients to the bowl and mix well. Serve at once.
This page can be found at: http://secretsauce.co.uk/pasta-rice/salad-recipes/jewelled-rice-salad/
A short link can also be used: http://bit.ly/fvuyV7
Uncle Ben's

Uncle Ben's chefs have spent years developing a range of products that bring the flavours of the world to mealtimes. The range includes perfect rice, every time, the subtle flavours of the Orient, a Mexican Fiesta, a taste of Indian and a fantastic Thai range.
More from Uncle Ben's

This easy-to-make tasty meal is really healthy - helping you towards your 5-a-day. Make it with beef mince, or choose Quorn mince if you're vegetarian.

A family favourite, learn how to cook it up in minutes!

Make a tasty treat for Bonfire Night (and beyond!) with this easy solution for a fun family supper.
Popular in salad recipes

It takes just 25 minutes to throw together this healthy mushroom lentil and rice dish for a filling meal for four to six people