Creamy butternut squash risotto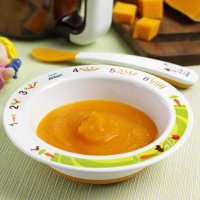 Delicious, creamy puree, ideal for using up seasonal butternut squash for autumn
Preparation: 20 mins
Serves: 6
What you need:
1 small butternut squash, peeled, deseeded and finely chopped (about 400g prepared weight)
1tbsp baby rice
What you do:
Place the butternut squash into the Philips AVENT Combined Steamer and Blender jug. Pour 150ml cold water into the boiler unit and steam for 15 minutes until tender
Turn the jug to the blending position and blitz 2-3 times until smooth
Place the baby rice into a bowl. Add 3tbsp boiling water and stir until smooth. Add 4tbsp butternut squash puree, stir well and allow to cool before serving
Cook's tip:
Refrigerate or freeze your remaining portions of butternut squash puree for later use. These will store in the fridge for the next day or in the freezer for 1 month.
This page can be found at: http://secretsauce.co.uk/pasta-rice/baby-recipes/creamy-butternut-squash-risotto/
A short link can also be used: http://bit.ly/eSUxgj
Philips Avent

Philips AVENT is the No. 1 recommended brand by UK Mums* with its products loved by Mums and Babies across the UK.
More from Philips Avent
A delicious main meal for your child starting to appreciate chunkier food!

Delicious yet healthy fish and chips, ideal for a baby shifting from puree foods to chunkier.

Scrumptious first grown-up biryani, tasty yet full of healthy ingredients.