Three step stroganoff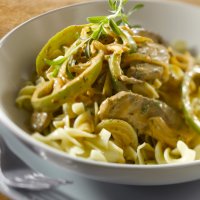 An quick and easy, deliciously tasty stroganoff
Preparation: 10 mins
Cooking: 6 mins
Serves: 6
What you need:
1tbsp vegetable oil
500g beef sirloin steak cut into strips
350g each thinly sliced onion and green pepper
2 cloves garlic, crushed
1tsp each dried thyme leaves and black pepper
90ml Heinz Tomato Ketchup
250ml beef stock
1tbsp worcestershire Sauce
250ml plain yogurt (or 125ml yogurt and 125ml soured cream)
2tbsp chopped flat leaf parsley
350g button mushrooms, chopped
Rice, to serve
What you do:
Heat the vegetable oil in a large nonstick frying pan set over high heat.
Add the beef, onion, green pepper, mushrooms, garlic, thyme and pepper.
Stir-fry for 5 minutes or until meat and vegetables start to brown.
Stir in the Heinz Tomato Ketchup, stock and worcestershire sauce. Bring the mixture to a boil.
Reduce the heat to medium.
Simmer, uncovered, for 3 minutes.
Stir in the yogurt, sour cream and parsley and remove pan from the heat.
Season with additional pepper to taste.
Serve with rice.
This page can be found at: http://secretsauce.co.uk/meat-poultry/steak-recipes/three-step-stroganoff/
A short link can also be used: http://bit.ly/ekH4QV
Heinz Tomato Ketchup

Heinz have launched their Secret Ingredient campaign to help parents create meals from scratch which appeal to the whole family.
Celebrity chef Paul Rankin (a regular on Ready, Steady, Cook) has helped to create a range of delicious recipes, all featuring Heinz Tomato Ketchup as the secret ingredient. These recipes have been created to be healthy, quick and easy.
More from Heinz Tomato Ketchup

A quick and easy family favourite, with great flavour.

A beautifully colourful chilli con carne with a dollop of soured cream

Gorgeous lasagne, sure to impress the eyes and taste buds
Popular in steak recipes

A juicy, tender steak with a traditional peppercorn sauce and an added chilli kick, ready in just 10 minutes

To celebrate its 35th birthday this year, Beefeater has released four exclusive and, until now, secret recipes using four of their most popular sauces so you can recreate the ultimate steak eating experience at home

To celebrate its 35th birthday, Beefeater has released four exclusive and, until now, secret recipes using four of their most popular sauces so you can recreate the ultimate steak eating experience at home