Steak with Madeira & mushrooms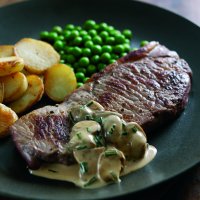 A delicious way to serve up tasty steak and the Madeira and mushroom sauce is so moreish!
Preparation: 10 mins
Cooking: 10 mins
Serves: 2
What you need:
2 sirloin, rib-eye, rump or centre cut steaks
Salt and freshly milled black pepper
15ml/1tbsp olive oil
100g/4oz chestnut mushrooms, cleaned and sliced
75ml/5tbsp good, hot beef stock
45ml/3tbsp Madeira wine
75ml/5tbsp double cream
30ml/2tbsp freshly chopped chives
What you do:
Heat a large non-stick frying or griddle pan, season the steaks, brush with oil on both sides and cook according to your preference. Transfer to warm serving plates and cover loosely with foil to keep warm.
Reduce the heat under the pan and add the mushrooms. Cook for 3 minutes, stirring occasionally. Add the stock, increase the heat and boil for 3 minutes until slightly reduced. Add the wine and cream and reduce for a further 3-4 minutes until the sauce is slightly thickened. Stir in the chives.
Serve the steaks with the sauce and seasonal vegetables.
Handy cook's tip:
Let your meat rest for a couple of minutes after cooking to make it extra tender
This page can be found at: http://secretsauce.co.uk/meat-poultry/steak-recipes/steak-with-madeira-and-mushrooms/
A short link can also be used: http://bit.ly/fmSTK7
Quality Standard beef

Quality Standard beef is produced to higher standards than required by law with a supply chain which is fully assured and independently inspected at every stage from farm to meat counter. For more recipes visit the recipe club.
More from Quality Standard beef

A great, traditional recipe, sure to keep the whole family happy. Don't forget the garlic bread!

Don't bore your guests with the usual party canapes, impress them with these little lovelies instead

A hearty and warming autumn dish that's easy to prepare and is well worth the wait!
Popular in steak recipes

A juicy, tender steak with a traditional peppercorn sauce and an added chilli kick, ready in just 10 minutes

To celebrate its 35th birthday this year, Beefeater has released four exclusive and, until now, secret recipes using four of their most popular sauces so you can recreate the ultimate steak eating experience at home
Not sure how to make the perfect steak dinner? Well here's the only recipe you need