Steak with Bourbon & Black sauce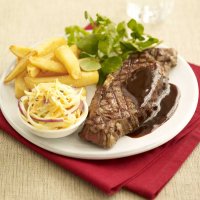 To celebrate its 35th birthday this year, Beefeater has released four exclusive and, until now, secret recipes using four of their most popular sauces so you can recreate the ultimate steak eating experience at home.
What you need:
300g Sugar Molasses or Dark Brown Sugar
210ml Water
1 dsp Corn flour
2 dsp Soy sauce
210g Apple puree
100g Tomato Puree
75ml Cider Vinegar
50ml Bourbon
1clove Garlic cloves crushed
½ tsp Salt
Pinch Chilli Powder
What you do:
Mix water and cornflower together
In a pan heat the sugar and crushed garlic
Add all other ingredients including water and corn flour and heat in pan stirring until sauce thickens
Best served with chunky chips, coleslaw and sirloin steak
This page can be found at: http://secretsauce.co.uk/meat-poultry/steak-recipes/steak-with-bourbon-and-black-sauce/
A short link can also be used: http://bit.ly/g69JNn
Beefeater

At Beefeater our passion is chargrilling, because we're passionate about food. We only use the finest cuts of steak from traditionally reared cattle fed predominantly on grass to ensure exceptional flavour and tenderness. Our steaks are expertly prepared by a British family run firm of butchers and matured for a minimum of 28 days before being seared on the chargrill for that special Beefeater taste!
More from Beefeater

To celebrate its 35th birthday this year, Beefeater has released four exclusive and, until now, secret recipes using four of their most popular sauces so you can recreate the ultimate steak eating experience at home

To celebrate its 35th birthday, Beefeater has released four exclusive and, until now, secret recipes using four of their most popular sauces so you can recreate the ultimate steak eating experience at home

A brilliant starter created for Beefeater Grill and National Steak Week by celebrity chef, Simon Rimmer
Popular in steak recipes

A juicy, tender steak with a traditional peppercorn sauce and an added chilli kick, ready in just 10 minutes

To celebrate its 35th birthday this year, Beefeater has released four exclusive and, until now, secret recipes using four of their most popular sauces so you can recreate the ultimate steak eating experience at home

To celebrate its 35th birthday, Beefeater has released four exclusive and, until now, secret recipes using four of their most popular sauces so you can recreate the ultimate steak eating experience at home