Tenderstem broccoli & bacon quiche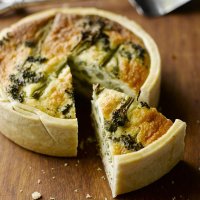 A lovely, creamy quiche that takes just 20 minutes to prepare - just serve warm with a crunchy green salad
Serves: 4
Prep: 20 minutes
Cook: 50 minutes
What you need:
500g Short crust pastry
1tablespoon olive oil
100g Bacon lardoons
1 Garlic clove finely chopped
350g Tenderstem ® broccoli
4 Free range eggs
200ml Double cream
Salt and cracked black pepper
What you do:
Preheat the oven to 200c (400f) gas mark 6.
Roll out the pastry and line a 16cm spring form tin. Prick the base of the pastry and chill.
Heat the oil in a small frying pan, add the lardoons and cook until almost crisp. Add the garlic and cook for another 30 seconds. Remove from the heat and leave to cool slightly.
Sprinkle lardoons and garlic over the base of the pastry. Fill the case with broccoli.
Beat the eggs, cream and season with salt and pepper. Pour the mixture into the case.
Bake in the middle of the oven for 45 minutes or until set. Serve warm.
This page can be found at: http://secretsauce.co.uk/meat-poultry/quiche-recipes/tenderstem-broccoli-bacon-quiche/
A short link can also be used: http://bit.ly/gQyFlZ
Tenderstem
Tenderstem is a vegetable that's sweet, packed with good things and cooks in moments. And, because it's delicious from stem to tip, nothing needs to be discarded.
More from Tenderstem

Enjoy this delicious spaghetti dish created by Italian chef and owner of Zilli restaurants, Aldo Zilli

Halloumi's salty flavour is the perfect match for sweet cherry tomatoes and smooth Tenderstem broccoli

Lesley says: 'Tenderstem® Broccoli is perfect for stir-frying, it's rich in iron, vitamin C and folic acid. Roasting the duck on a rack with salt will ensure the skin goes really crispy.'
Popular in quiche recipes

A delicious, classic recipe served best with higher welfare ingredients

Fresh turkey with melted nutty gruyere and tender, good-for-you broccoli make a fantastic quiche

A quick and easy recipe for a delicious quiche, perfect for those summer family picnics!