Spicy chicken wholemeal tortilla stack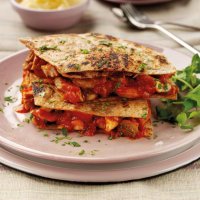 Texture, colour and flavour - have a Mexican night and serve these delicious tortilla stacks!
Preparation: 10 mins
Cooking: 12 mins
Serves: 3
What you need:
4 chicken thigh fillets, sliced
1/2 -1 tsp mild chilli powder
2 tbsp rapeseed oil
1 red pepper, sliced
75g mushrooms, sliced
200g can chopped tomatoes
4 wholemeal tortillas
1-2 tbsp chopped coriander to serve
What you do:
Mix the chicken with the chilli powder and seasoning. Heat 1 tbsp oil in a large frying pan and fry the chicken for 3 minutes. Add the vegetables and fry for 5 minutes. Stir in the tomatoes and cook for a further 2 minutes.
Brush the tortillas with the remaining oil and fry for 30 seconds each side in a clean frying pan.
Spoon half the chicken onto 2 tortillas then top with the remaining tortillas and scatter with chopped coriander.
Cook's tip:
Replace the mushrooms with kidney beans for extra texture and colour. Serve with a spoonful of soured cream and grated cheese.
This page can be found at: http://secretsauce.co.uk/meat-poultry/mexican-recipes/spicy-chicken-wholemeal-tortilla-stack/
A short link can also be used: http://bit.ly/eoZCG8
Wholegrain goodness

Wholegrain Goodness
is an independent campaign which aims to raise awareness of the health benefits and versatility of wholegrains.
More from Wholegrain goodness

With wholewheat spaghetti, low-fat cheese and semi-skimmed milk, this recipe is healthy and you can add your own favourite ingredients to it too

Contains three of your five-a-day plus two servings of wholegrain per person. The recipe is low in saturated fat and salt.

Delicious and healthy - yes, the two can go together in this lovely granola dessert topping
Popular in mexican recipes

Throw a Mexican party just so you can share out these lovely cheesy quesadillas with a spicy chorizo kick

A good sharing dish for a casual drinks party and they'll also work well as a festive entertaining dish.

This quick and easy recipe has been designed to create minimum fuss, maximum convenience. Cook the chicken first for 3 minutes and then add the vegetables before wrapping in a soft tortilla. All in one - it couldn't be easier!