Chicken quesadillas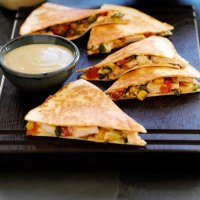 Everyone, young and old will enjoy this easy Mexican recipe using Heinz salad cream lemon & black pepper.
Preparation: 15 mins
Cooking: 20 mins
Serves: 4
What you need:
200g cooked, skinless chicken breasts, sliced
198g can of sweetcorn, drained
2 large tomatoes, chopped
6 spring onions, finely sliced
20g fresh coriander, chopped
2 tbsp Heinz fiery chilli twisted ketchup, to taste
2 tbsp Heinz salad cream lemon & black pepper and extra to serve
4 tbsp light cream cheese
80g grated half fat Cheddar cheese
8 medium flour tortillas
Rapeseed oil, to fry
What you do:
Add the chicken to a large frying pan with the sweetcorn and tomatoes and cook until piping hot and remove from the heat.
Mix through the onions and coriander with Heinz fiery chilli twisted ketchup and seasoning to taste.
Mix the Heinz salad cream lemon & black pepper with the cream cheese and Cheddar cheese.
Spread the cheese mixture over one side of the tortillas using the back of a spoon.
Heat a non stick frying pan over a medium heat, add a trickle of oil and wipe around the pan with a piece of kitchen towel.
Place a tortilla in the pan, cheese side up and top with a quarter of the chicken mixture and top with another tortilla, cheese side down, pressing it down slightly.
Heat for 1-2 minutes until golden on the underside, then carefully using a fish slice or another plate turn the tortilla over and brown on the other side, remove and keep warm, and repeat with the remaining tortillas.
Serve immediately, cut into triangles with more Heinz salad cream lemon & black pepper and a green salad.
Cook's tip:
For a vegetarian option omit the chicken and stir in some chopped avocado with the onions and coriander.
This page can be found at: http://secretsauce.co.uk/meat-poultry/mexican-recipes/chicken-quesadillas/
A short link can also be used: http://bit.ly/hMekJp
Heinz Salad Cream

Heinz Salad Cream has been wowing the nation for over 80 years. There really is nothing else to compare with its tangy taste - and of course, it complements far more than salads, go to our inspiration page for more recipe ideas.
More from Heinz Salad Cream

Easy to prepare, these chicken dippers are perfect handed round at parties!

Forget the Eighties classic in a cocktail glass, this version is right up to date and includes smoked salmon!

You'll love this recipe! The creaminess of the coleslaw goes perfectly with the salty gammon and sweet pineapple.
Popular in mexican recipes

Throw a Mexican party just so you can share out these lovely cheesy quesadillas with a spicy chorizo kick

A good sharing dish for a casual drinks party and they'll also work well as a festive entertaining dish.

This quick and easy recipe has been designed to create minimum fuss, maximum convenience. Cook the chicken first for 3 minutes and then add the vegetables before wrapping in a soft tortilla. All in one - it couldn't be easier!