Cheese & beetroot ploughman's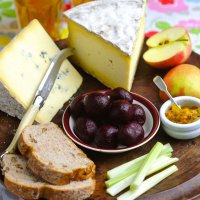 In this modern twist on the traditional classic, the versatility of pre-cooked beetroot is used to perfection instead of the pickled onion. This is a quick and easy dish to prepare and put out for guests and can look beautiful in its simplicity.
What you need:
1 pack of traditional or flavoured cooked beetroot depending on taste
1 or 2 large chunks of your favourite cheese - we used Gorwydd Caerphilly and Stichelton
1 crunchy Pink Lady apple
A few sticks of celery, cucumber or radish depending on preference
Your favourite bread & butter - we prefer a wholemeal or sourdough loaf with a good texture to stand up to the cheese and beetroot.
A small pot of piccalilli or your own choice of chutney
What you do:
Place all ingredients on one large board, platter or slate and let your guests help themselves
Drinks suggestions:
Serve with a light hoppy ale, lager, cider or apple juice
Cook's tip:
Drinks suggestions:
Serve with a light hoppy ale, lager, cider or apple juice
This page can be found at: http://secretsauce.co.uk/meat-poultry/beetroot-recipes/cheese-and-beetroot-ploughmans/
A short link can also be used: http://bit.ly/TNVV0p
lovebeetroot

Beetroot is enjoying something of a revival as people discover there's more to this great British vegetable than they thought. You can now buy beetroot in so many different ways – raw, cooked, marinated, lightly pickled - there's so much to beetroot than the jar of pickled beetroot many of us will remember from our childhood.
More from lovebeetroot

The infused beetroot in this dish makes for a lively and flavour-packed lunch. The sweet potato will keep you going right through the afternoon.

A delicious, healthy smoothie with a ginger kick

The aromatic taste of juniperberry & black pepper-infused beetroot is wonderful tossed through this salad which makes for a substantial lunch or light supper.