Lemon & mustard cobia kebabs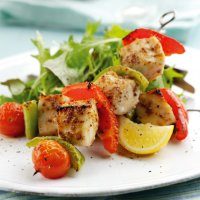 This delicious white fish has a firm moist texture and is one of the most versatile fish on the menu, just add lemon and mustard for a tangy twist
Preparation: 5 mins
Cooking: 10 mins
Serves: 4
What you need:
1 tbsp clear honey
Zest & juice of 1 lemon
1 tbsp wholegrain mustard
2 x 250g cobia loins, each cut into two
2 peppers, diced
8 cherry tomatoes
What you do:
Mix the honey, lemon zest and juice and mustard together. Stir in the cobia and marinate in a fridge for 1-2 hours.
Thread the cobia onto 4 metal skewers, alternating with the peppers and tomatoes. Place under a preheated grill for 4-5 minutes on each side until cooked throughout, basting well with the left over marinade. Drizzle with the left over cooking juices and serve with salad.
This page can be found at: http://secretsauce.co.uk/fish-seafood/kebab-recipes/lemon-and-mustard-cobia-kebabs/
A short link can also be used: http://bit.ly/dOnBFJ
Cobia

From January cobia will be available to UK consumers directly, thanks to a new arrangement between Marine Farms and Regal Fish Supplies Ltd. This delicious white fish has a firm moist texture and is one of the most versatile fish on the menu. Cobia can be baked, fried, grilled, poached and even served as sushi; all with equal success. Please take a look at our new website - www.cookingwithcobia.co.uk which features tasty recipes, stunning photography and a cooking video which shows just how easy cobia is to prepare and cook.
More from Cobia

Bored of your usual fish dishes? Buy some cobia and try it with this dish - you won't turn back!

From pan frying to grilling and roasting, to soups and even sushi, the culinary opportunities for cobia are almost endless

This Thai soup couldn't be easier and takes just 15 minutes to prepare. Delicious!