Peachy pick-me-up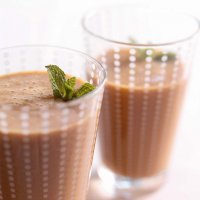 A delicious vanilla and peach smoothie, made with Nescafé Green Blend
Preparation: 3 mins
Serves: 1
What you need:
2tsp Nescafé Green Blend
1/2 can peaches in syrup
200ml (7fl.oz) cold milk
1 scoop light vanilla ice-cream
few drops vanilla or almond essence (optional)
fresh mint sprig, to decorate
What you do:
Pour all the ingredients into a blender except the mint and mix until smooth and luscious.

Decorate with a sprig of mint and serve immediately.
This page can be found at: http://secretsauce.co.uk/drinks/smoothie-recipes/nescafe-peachy-pick-me-up/
A short link can also be used: http://bit.ly/hDnH9p
Nescafe

To bring you 100% pure coffee,
Nescafe
works in perfect harmony with nature. They capture coffee at its brightest TM to give you the 100% Nescafe taste you love. This passion for purity has been with them ever since they began nurturing and capturing that special spark over 70 years ago.
More from Nescafe

A deliciously refreshing frappuccino
Popular in smoothie recipes

Need some get up and go in the morning? This smoothie is just what you need. Ready, steady...

This super quick detox smoothie is low in saturated fat and perfect to kick-start your morning

So delicious and healthy too!