The Balsamico cocktail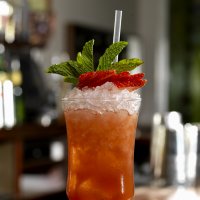 Looking for an exciting cocktail to serve guests at your barbecue? Look no further than this gorgeous ruby red smasher!
What you need:
35ml Gin
10ml Framboise
10ml Balsamico
4 Strawberries
15ml Lemon Juice
Dash of Grapefruit Juice
50ml Fresh Apple Juice
2 spoons of Fructose Sugar
Perrier mineral water
What you do:
Shake the Gin with all of the ingredients.

Finish by topping with Perrier mineral water.
This page can be found at: http://secretsauce.co.uk/drinks/alcoholic-cocktail-recipe/the-perrier-balsamico-cocktail/
A short link can also be used: http://bit.ly/hcjgsp
Perrier

Perrier
is a naturally carbonated mineral water made from a spring in the Gard district, in the city of Vergèze, which is located in the south of France, between Nîmes and Montpellier.
More from Perrier

With a refreshing taste and rich bubbles that soften the bite of the alcohol, this is the final piece of the puzzle to complete your perfect summer's cocktail party
A gorgeous, exotic drink that's perfect for summer parties and barbecues
Popular in alcoholic cocktail recipe

A blast from the past goes Cuban! A slightly more sophisticated version of that Latin crushed ice favourite.

This refreshing gin fizz cocktail was created exclusively for Jacksons of Piccadilly by food writer Ghillie James

I bet it's a while since you tasted a gooseberry and there's no better way to refresh your memory than with this lovely gooseberry mojito