Rhubarb & custard sweet treat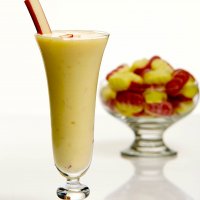 A deliciously fun mix of rhubarb jam, custard, and a little something warming. Evocative of the bright, cheerful Roobarb cartoons, but definitely a grown-up treat! Anyone who loves custard on their pud will enjoy this! Created by Shaken & Stirred.
What you need:
35 ml spiced rum
15ml Advocaat (optional)
25ml rhubarb jam
50ml fresh vanilla custard
What you do:
Blend the ingredients with crushed ice
Ensure the jam is mixed throughout
Serve in a hurricane glass.
Glass: Sling or Highball
Garnish: Thin slices/ cross sections of rhubarb and a stick of rhubarb as a stirrer
Or hundreds and thousands if you have a sweeter tooth!
This page can be found at: http://secretsauce.co.uk/drinks/alcoholic-cocktail-recipe/rhubarb-and-custard-sweet-treat/
A short link can also be used: http://bit.ly/YGDHzo
Shaken & Stirred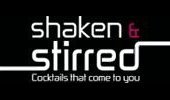 Shaken&Stirred is an events company specialising in providing fully stocked and professionally staffed cocktail bars for all types of function. Our aim is to create, prepare and serve downright delicious cocktails made with the finest and freshest ingredients. We provide everything in house and prepare all stock and ingredients at our Oxford HQ.
More from Shaken & Stirred

Rhubarb is one of Britain's early fruits, and is fantastic when combined with ginger. This is a fun and zingy cocktail - a little sweet but a little sassy too!
Popular in alcoholic cocktail recipe

A blast from the past goes Cuban! A slightly more sophisticated version of that Latin crushed ice favourite.

This refreshing gin fizz cocktail was created exclusively for Jacksons of Piccadilly by food writer Ghillie James

I bet it's a while since you tasted a gooseberry and there's no better way to refresh your memory than with this lovely gooseberry mojito