Grand Esprit cocktail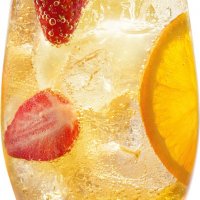 There's nothing quite like a long drink outdoors on a balmy summer's evening and even if there isn't one, this drink's rather delicious!
1 unit per serve
What you need:
25ml Grand Marnier
25ml Elderflower cordial
175ml soda water
What you do:
Fill a tall glass with cubed ice
Stir well and add slices of orange and strawberry
For a pitcher, multiply the ingredients by four
This page can be found at: http://secretsauce.co.uk/drinks/alcoholic-cocktail-recipe/grand-esprit-cocktail/
A short link can also be used: http://bit.ly/g9ApG7
Skandi Candle
Pure soy wax candles in Flack Fig & Vetiver or Lemon fragrances - perfect for any dinner party or romantic night in.
Grand Marnier

Grand Marnier Cordon Rouge liqueur is the leading French liqueur in export sales and the third highest selling liqueur worldwide. They use only one variety of orange, Citrus Bigaradia, the richest in essential oils. The oranges are grown traditionally on their own plantation in the Caribbean and are hand-picked. The peels are dried in the sun and are then macerated and distilled to bring out their purest essence. It is the combination of this aromatic elixir with the finest cognacs that is behind Grand Marnier liqueur. Given its power and complexity, this liqueur opens the door to infinite culinary possibilities.
Popular in alcoholic cocktail recipe

A blast from the past goes Cuban! A slightly more sophisticated version of that Latin crushed ice favourite.

Here the punchy notes of the juniper are really bolstered by the rich fruity blackcurrant of creme de cassis.

This refreshing gin fizz cocktail was created exclusively for Jacksons of Piccadilly by food writer Ghillie James