Chocolate Easter flip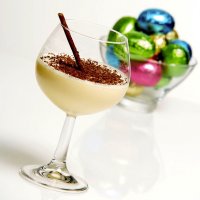 Shaken & Stirred's Chocolate Easter Flip is a play on a classic 'flip', featured in the 1862 'Bon-Vivant's Companion'. Created with delicious dark and intense chocolate liqueur and luxurious cognac, once shaken together with egg and cream the cocktail will have the froth that gives it the 'Flip' name. It's a fabulously extravagant cocktail, perfect as a warming indulgence to sip over Easter - like drinking chocolate Easter eggs!
What you need:
35ml Cognac
25ml Mozart Dark Chocolate Liqueur (or similar)
3 Dashes orange bitters
1 Whole egg
1tsp Caster sugar
25ml Fresh single cream
Orange zest
Grated chocolate
What you do:
Shake the first six ingredients together
Strain into a bowl or egg shaped glass
Grate over dark chocolate and orange zest
Garnish
Glass: Bowl or egg shaped glass
Garnish: Add a chocolate 'matchstick' as a stirrer
This page can be found at: http://secretsauce.co.uk/drinks/alcoholic-cocktail-recipe/chocolate-easter-flip/
A short link can also be used: http://bit.ly/YGDHPG
Popular in alcoholic cocktail recipe

A blast from the past goes Cuban! A slightly more sophisticated version of that Latin crushed ice favourite.

Here the punchy notes of the juniper are really bolstered by the rich fruity blackcurrant of creme de cassis.

This refreshing gin fizz cocktail was created exclusively for Jacksons of Piccadilly by food writer Ghillie James