Strawberry Shrikhand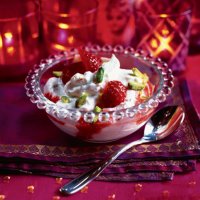 Sweet strawberries spiced up with cardamom and given added crunch with pistachios. Indulge!

Heat rating: 1
Serves: 6
Preparation time: 10
What you need:
500g Greek yogurt
200g strawberries
Icing sugar to taste
¼ - ½ tsp ground cardamom
Fresh strawberries, to decorate
Chopped pistachios, to decorate
What you do:
Drain the yogurt in a fine sieve, over a bowl in the fridge, for about 1 hour.
Whizz the strawberries in a food processor, adding sugar to taste to make a coulis.
Stir icing sugar to taste into the strained yogurt with the cardamom. Stir through the coulis and divide between dishes. Chill until required.
To serve, decorate with chopped strawberries and pistachios.
This page can be found at: http://secretsauce.co.uk/cakes-desserts/strawberry-recipes/strawberry-shrikhand/
A short link can also be used: http://bit.ly/eClBIU
Patak's

Patak's - Be inspired by over 150 Indian recipes to help you create authentic, delicious meals at home.
More from Patak's

An Indian meal wouldn't be complete without the traditional onion bhajis and they take just 25 minutes to prepare and cook

This recipe is a wonderful starter or snack and taste great with homemade dips. It can easily be made for vegetarians by substituting the lamb with mashed potatoes.

Share these colourful, tasty dips and salsas with friends - perfect for eating al fresco
Popular in strawberry recipes

Macaroons are the perfect dessert to follow a romantic dinner - the perfect treat!

Viva strawberries and chocolate are a match made in heaven and make a delicious treat and a healthier alternative to a bar of chocolate.

These just look so good, don't they? And they're easy to make and delicious too