Vermicelli pudding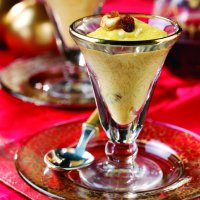 Saffron is the royal spice and well known for its uses around Diwali time
Indian name: Zaffarani Seviyan Ki Kheer
Heat rating: 1
Serves: 4
Preparation time: 10
Cooking time: 40
What you need:
2¼ litres whole milk
8 - 10 saffron strands
100g roasted vermicelli (readily available in ethnic shops)
125g sugar
½ tsp green cardamom powder
2 tbsp ghee (clarified butter)
40g sultanas
50g cashew nuts
What you do:
Bring the milk to boil in a heavy bottomed saucepan, stirring to prevent burning. Reduce the heat to low-medium and continue to cook until reduced to ¾. Add the saffron strands, roasted vermicelli and allow to thicken.
Add the sugar and green cardamom powder and allow to thicken further.
In a separate pan heat the ghee until it turns clear then add the sultanas and cashews and stir until toasted a golden brown. Mix into the vermicelli mixture reserving a few for garnish.
Serve hot or cold garnished with the remainin sultanas and cashews.
This page can be found at: http://secretsauce.co.uk/cakes-desserts/indian-recipes/vermicelli-pudding/
A short link can also be used: http://bit.ly/gX6U6V
Patak's

Patak's - Be inspired by over 150 Indian recipes to help you create authentic, delicious meals at home.
More from Patak's

An Indian meal wouldn't be complete without the traditional onion bhajis and they take just 25 minutes to prepare and cook

This recipe is a wonderful starter or snack and taste great with homemade dips. It can easily be made for vegetarians by substituting the lamb with mashed potatoes.

Share these colourful, tasty dips and salsas with friends - perfect for eating al fresco
Popular in indian recipes

Sweet semolina pudding given an Indian twist with almonds, cashew nuts and saffron

Deliciously sweet with a bit of crunch from cashew nuts, this rice pudding is a great dish to finish off a lovely Indian meal

Refreshing and easy to make, this fabulously fruity yogurt is superb for a sunny summer day and is low in calories so can be enjoyed 100% guilt free