South Indian rice pudding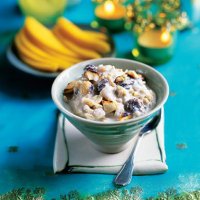 Deliciously sweet with a bit of crunch from cashew nuts, this rice pudding is a great dish to finish off a lovely Indian meal
Indian name: Rice Payasam
What you need:
150g basmati rice, washed
400ml can coconut milk
100g grated palm sugar (from Waitrose) or unrefined brown sugar
200ml full-fat milk
seeds from 5-6 green cardamom pods, ground
50g mix of cashew nuts and raisins
What you do:
Soak the rice in cold water for 30 minutes. Drain, put in a saucepan with the coconut milk and rinse out the can with 100ml water. Cook over a medium heat for 20 minutes, stirring occasionally, until the rice is tender.
Stir in the sugar until it dissolves. Add the milk and cook over a low heat for 15 - 20 minutes.
Remove from the heat and stir in the cardamom. Lightly dry-fry the cashews and raisins and stir through. Serve warm or chilled with mango.
This page can be found at: http://secretsauce.co.uk/cakes-desserts/indian-recipes/south-indian-rice-pudding/
A short link can also be used: http://bit.ly/hVYfDn
Patak's

Patak's - Be inspired by over 150 Indian recipes to help you create authentic, delicious meals at home.
More from Patak's

An Indian meal wouldn't be complete without the traditional onion bhajis and they take just 25 minutes to prepare and cook

This recipe is a wonderful starter or snack and taste great with homemade dips. It can easily be made for vegetarians by substituting the lamb with mashed potatoes.

Share these colourful, tasty dips and salsas with friends - perfect for eating al fresco
Popular in indian recipes

Sweet semolina pudding given an Indian twist with almonds, cashew nuts and saffron

Refreshing and easy to make, this fabulously fruity yogurt is superb for a sunny summer day and is low in calories so can be enjoyed 100% guilt free

Saffron is the royal spice and well known for its uses around Diwali time