Blueberry compote with vanilla custard topping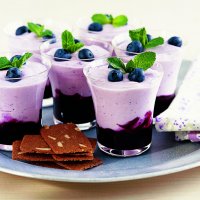 Bursting with vitamin C and antioxidants, blueberries are the perfect ingredient for a guilt-free delicious dessert

Serves: 6
What you need:
300g blueberries, washed
1 tbsp caster sugar
Grated zest of 1 unwaxed lemon and juice of ½ lemon
3 x 150g pots Waitrose Wild Blueberry Yogurt Dessert
½ x 500g tub Waitrose Perfectly Balanced Vanilla Custard
200g pot Waitrose Natural Fromage Frais
½ x 25g pack fresh mint, to serve
What you do:
Keep aside a handful of blueberries for decoration, then place the remainder in a small pan with the caster sugar and lemon juice to make a compote. Bring to the boil, then reduce the heat and simmer for 3-4 minutes until the berries start to burst and release their juice. Remove from the heat and cool completely.
Place the blueberry yogurt desserts, custard, fromage frais and lemon zest in a bowl and stir to combine.
Spoon the cooled blueberry compote into the bottom of 6 glasses, then top with the custard mixture. Chill for 30 minutes or until ready to serve.
Before serving, decorate with the reserved blueberries and a sprig of mint. Serve immediately with almond thin biscuits.
Handy cook's tips
Prepare the compote the day before and refrigerate until needed. For a more indulgent version, replace the lemon juice with 1-2 tablespoons of crème de cassis.
This page can be found at: http://secretsauce.co.uk/cakes-desserts/blueberry-recipes/blueberry-compote-with-vanilla-custard-topping/
A short link can also be used: http://bit.ly/hWvHvn
Waitrose

More from Waitrose

If you're bored of the usual salad ingredients, this recipe should certainly tickle your tastebuds!
Popular in blueberry recipes

Delicious creamy rice with a fruity touch, ideal for tea time or as a snack.

A delicious fruit compote, served with a cool dollop of yoghurt