Frankenstein fingers & sheep's eyes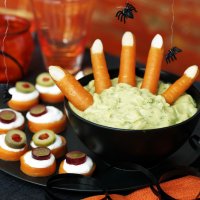 For a bit of Halloween fun, try these spooky ideas! They are quick and easy and get the kids eating veg too!
What you need:
Ready-made guacamole, houmous or other favourite dip
4 carrots
5 baby carrots
Sour cream
Green stuffed olives
Red grapes
What you do:
Fill a small bowl with ready-made guacamole, houmous or other favourite dip.

Take 5 baby carrots and take a thin slice off the tip of each.

Then use the knife to make a small incision at the base of this cut and push a flaked almond into the slot to look like finger nails!

Arrange the carrots into the dip so they look like fingers.

For the sheep's eyes, peel 4 carrots and thickly slice.

Slice a few green stuffed olives and red grapes.

Top each carrot slice with a blob of sour cream and the sliced grapes or olives.

Arrange the eyes in pairs on a serving plate.
This page can be found at: http://secretsauce.co.uk/vegetarian/halloween-recipes/frankenstein-fingers-and-sheeps-eyes/
A short link can also be used: http://bit.ly/hoJJAm
British Carrots

For carrot history, fun facts, recipes and information on buying, storing and preparing carrots, visit British Carrots.
More from British Carrots

Casserole's a classic winter warmer and this one with apple gravy is just delicious and really straightforward to make. Go on, tuck in!

If you're after a healthy, warming soup, then this one's definitely worth making. Get some fresh crusty bread to serve with it and lunch is sorted!

If you've got loads of turkey leftovers, here's a great recipe that will not only use them up, it'll provide you with another delicious meal!