Chardonnay-glazed carrots with chive butter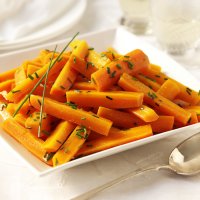 If you're already planning your Christmas dinner, these will make a perfect side dish with the chive butter making the carrots extra special
Preparation: 5 mins
Cooking: 10 mins
Serves: 6
What you need:
450g/1lb carrots
100ml/4floz chardonnay or other dry white wine
100ml/4floz vegetable stock
25g/1oz butter
2.5ml/1/2 tsp caster sugar
salt and freshly ground black pepper
45ml/3tbsp snipped fresh chives
What you do:
Peel the carrots, if liked, then cut each into chunky batons about 1.5cm thick and 7cm long. Place in a large pan, add the wine, stock, butter, sugar and seasoning and bring to the boil.
Crumple a piece of baking or greaseproof paper and place over the top of the pan cover with the pan lid - this will make a tight seal. Reduce the heat and simmer the carrots for 7mins.
Remove the lid and paper and check the carrots - they should be just tender. Increase the heat and cook the carrots without a lid until the cooking juices reduce to just a glaze. Stir in the chives and spoon into a serving dish.
Cook's tip:
If there's one ingredient you shouldn't be without this festive season, it's the humble carrot. Loved and adored by children, adults and Rudolph the red-nosed reindeer alike, this tasty vegetable won't go to waste or break the bank.
This page can be found at: http://secretsauce.co.uk/vegetarian/carrot-recipes/chardonnay-glazed-carrots-with-chive-butter/
A short link can also be used: http://bit.ly/fyntwv
British Carrots

For carrot history, fun facts, recipes and information on buying, storing and preparing carrots, visit British Carrots.
More from British Carrots

Casserole's a classic winter warmer and this one with apple gravy is just delicious and really straightforward to make. Go on, tuck in!

If you're after a healthy, warming soup, then this one's definitely worth making. Get some fresh crusty bread to serve with it and lunch is sorted!

If you've got loads of turkey leftovers, here's a great recipe that will not only use them up, it'll provide you with another delicious meal!