Cheese and jalapeño cornbread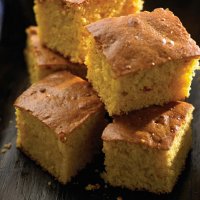 The perfect way to celebrate Cinco de Mayo, on the 5th of May, with one of Latin America's culinary delights, cheese and jalapeño cornbread. Ideal for sharing at your Mexican fiesta!
Preparation: 10 mins
Cooking: 25 mins
Serves: 16
What you need:
200g yellow cornmeal or polenta flour
100g plain flour, sifted
2 tsp, baking powder
1 tbsp Discovery Fajita Seasoning Mix
2 tsp sugar
1/2 tsp salt
50g mature cheddar, grated
1 tbsp Discovery Red Jalapeños
350ml milk
1 tbsp olive oil
1 egg
What you do:
Preheat oven to 200 degrees
Grease and line 22cm square cake tin
Mix together cornmeal, flour, baking powder, seasoning, sugar, salt, cheese and Jalapenos
Beat together milk, oil and egg
Stir into cornmeal mixture to make a smooth batter
Cook in preheated oven for 20-25 minutes until set and browned
Turn out of tin, cut into squares and serve warm
This page can be found at: http://secretsauce.co.uk/vegetarian/bread-recipes/cheese-and-jalapeno-cornbread/
A short link can also be used: http://bit.ly/fcmw7V
Discovery Foods

Discovery Foods sells authentic-tasting Mexican, Latino and North American foods, including sauces, tortillas, seasonings, accompaniments and dinner kits. Stock up on Discovery Wrapbreads, choose low-fat, healthy fillings and kick off the New Year with a fresh start. Discovery Wrapbreads are available in the bakery section of selected Sainsbury's and Waitrose stores priced at RRP £1.49. If you like it in a sandwich… you'll love it in a wrap.
More from Discovery Foods

Throw a Mexican party just so you can share out these lovely cheesy quesadillas with a spicy chorizo kick

This quick and easy recipe has been designed to create minimum fuss, maximum convenience. Cook the chicken first for 3 minutes and then add the vegetables before wrapping in a soft tortilla. All in one - it couldn't be easier!

A delicious and healthy alternative to the boring sandwich
Popular in bread recipes

Who can resist the smell of a freshly-baked loaf? And this wholemeal cottage loaf is good for your figure too!

If you like making your own bread, or you've never tried, this is a great recipe - full of subtle chilli flavour that will go with lots of savoury dishes

This cost-conscious savoury meal makes the most of bread that might be a little past its prime. It uses bread from a 3- to 4-day-old loaf to its best advantage to make a fantastic main course meal that's suitable for vegetarians