Roasted squash, sweet potato & pepper pasta with melting goat's cheese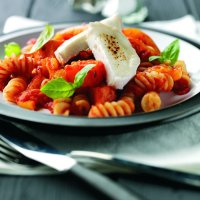 This vegetarian supper is so tasty and good for you! Make it with chunks of butternut squash and sweet potato (which can be bought ready-prepared to save time) with yellow pepper strips. Roast until tender, then mix with a jar of Dolmio Taste of Italy Tomato & Chilli Pasta Sauce and serve topped with slices of melting goat's cheese and a few basil leaves. Yum!
Preparation: 10 mins
Cooking: 30 mins
Serves: 2
GDAs
540cals – 27%
27g sugar -30%
17g fat – 24%
6g saturated fat - 30%
1.8g salt – 30%
What you need:
350g pack ready-prepared butternut squash and sweet potato chunks
1 yellow or red pepper, deseeded and sliced into thick strips
1 tbsp olive oil
Salt and freshly ground black pepper
100g pasta shapes
1 x 350g jar Dolmio Taste of Italy Tomato & Chilli Pasta Sauce
100g goat's cheese, thickly sliced
A few basil leaves, to garnish
What you do:
Preheat the oven to 200°C, fan oven 180°C, Gas Mark 6. Put the butternut squash, sweet potato and pepper into a roasting tin and add the olive oil, tossing to coat. Season. Roast for 25-30 minutes, until tender.
When the vegetables have been roasting for 15 minutes, put the pasta on to cook in lightly salted boiling water for 10-12 minutes, or according to pack instructions. Drain thoroughly and return to the saucepan.
Add the jar of Tomato & Chilli Pasta Sauce to the saucepan with the pasta and stir in the hot vegetables. Reheat gently for 1-2 minutes. Share between 2 warmed plates and serve at once, topped with the goat's cheese and a few basil leaves.
Handy cook's tip:
Use a medium courgette instead of the pepper, if you prefer.
This page can be found at: http://secretsauce.co.uk/pasta-rice/goats-cheese-recipes/squash-sweet-potato-pasta-with-goats-cheese/
A short link can also be used: http://bit.ly/fIR3sQ
Dolmio

Dolmio's products burst with variety and include Taste of Italy sauces, My Dolmio Pasta Range, My Dolmio Sauce Range, lasagne sauces, pasta bakes, stir-in sauces, express pasta, Bolognese and express pasta sauce.
More from Dolmio

A shortlist of 5 quality ingredients is all you need to make this easy, impressive family favourite. Go on - give them a taste of what they really love!

Lasagne is so delicious - everyone enjoys it! Why not try this delicious vegetarian version - packed with healthy fresh vegetables to help you towards your 5-a-day target

If you love seafood, you'll adore this fabulous fish lasagne. Use fresh fish from the counter, or make the most of convenient packs of mixed frozen seafood to make it easy for you