Turkey fajitas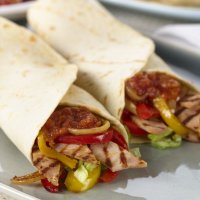 These turkey fajitas are great for a lunchtime meal as they're so easy to make, or take them to work in a packed lunch!
Serves: 4
Calories per portion: 384
Fat per portion: 10.3g
What you need:
2 x 150g packs Mattessons Turkey Rashers
1 tablespoon olive oil
1 medium onion, sliced
1 red pepper, seeded and sliced
1 yellow pepper, seeded and sliced
½ teaspoon chilli powder
½ teaspoon ground cumin
1 pack of 8 flour tortillas
¼ Iceberg lettuce, thinly shredded
225g jar tomato salsa
What you do:
Cut the Turkey Rashers into 2.5cm (1in) wide strips.
Heat the oil in a large non-stick frying pan, add the onion and fry for 2 minutes. Add the peppers and Turkey Rashers and continue to cook over a high heat for 2-3 minutes, stirring all the time, add the spices and cook a further minute.
Put the tortillas onto a plate, cover with cling film and heat in the microwave for 30 seconds.
To assemble, place a little shredded lettuce on each tortilla, add a large spoonful of the sizzling turkey mixture. Add a spoonful of the tomato salsa and roll up the tortilla, serve at once.
This page can be found at: http://secretsauce.co.uk/meat-poultry/turkey-recipes/turkey-fajitas/
A short link can also be used: http://bit.ly/hvYJAC
Mattessons Turkey Rashers

Mattessons
Turkey Rashers are a great alternative to bacon. Turkey is a naturally lean meat and the rashers are less than 2% fat. They are the perfect cooking ingredient and mean that you don't have to compromise on quality or flavour.
More from Mattessons Turkey Rashers

Couscous is a delicious and healthy meal and turkey is a really good choice if you're trying to eat well and this recipe is only 192 calories per portion!
Popular in turkey recipes

A roast turkey crown for Christmas makes a superb centrepiece to the table and there's little wastage. Devised by celebrity chef Phil Vickery

A traditional Italian meatball and passata dish with a British turkey twist!

If you're having a children's party but still want them to eat something healthy that's not full of additives, then this recipe is perfect as it feeds 25!