Spicy turkey & couscous salad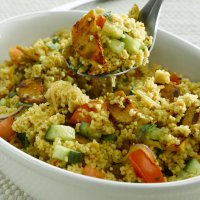 Couscous is a delicious and healthy meal and turkey is a really good choice if you're trying to eat well and this recipe is only 192 calories per portion!
Serves: 4
192 calories per portion
6.4g fat per portion
What you need:
175g (6oz) couscous
450ml (¾ pint) vegetable stock
1 x 150g pack Mattessons Turkey Rashers
1 tablespoon olive oil
1 garlic clove, crushed
1 teaspoon hot curry powder
1 teaspoon ground cumin
1 teaspoon paprika
2 tomatoes, diced
Half a cucumber, diced
50g (2oz) sultanas
1 small red onion, finely diced
2 tablespoon lemon juice
2 tablespoons chopped mint
What you do:
Put the couscous into a bowl; pour over the hot stock and leave to soak for about 15 minutes until all the liquid is absorbed.
Roughly chop the Turkey Rashers, put into a frying pan with the oil and garlic and stir-fry together for 3 minutes. Add all the spices and cook for a further minute, add to the couscous, mix well and allow to cool.
Stir the tomatoes, cucumber and sultanas into the salad, add the lemon juice and mint and stir again. Season if needed and refrigerate until required. Garnish with extra mint if wished.
This page can be found at: http://secretsauce.co.uk/meat-poultry/turkey-recipes/spicy-turkey-couscous-salad/
A short link can also be used: http://bit.ly/fxc3Sa
Mattessons Turkey Rashers

Mattessons
Turkey Rashers are a great alternative to bacon. Turkey is a naturally lean meat and the rashers are less than 2% fat. They are the perfect cooking ingredient and mean that you don't have to compromise on quality or flavour.
More from Mattessons Turkey Rashers

These turkey fajitas are great for a lunchtime meal as they're so easy to make, or take them to work in a packed lunch!
Popular in turkey recipes

A roast turkey crown for Christmas makes a superb centrepiece to the table and there's little wastage. Devised by celebrity chef Phil Vickery

A traditional Italian meatball and passata dish with a British turkey twist!

If you're having a children's party but still want them to eat something healthy that's not full of additives, then this recipe is perfect as it feeds 25!