Warm Steak & beetroot sandwich with honey & mustard dressing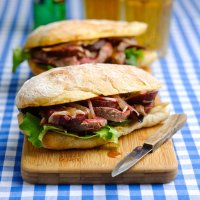 A great big steak sandwich. That'll keep the winter chills away!

Preparation: 10 mins
Cooking: 15 mins
Serves: 2

What you need:

For the honey mustard dressing:

6 tbsp extra virgin olive oil
2 tbsp white wine vinegar
1 tbsp dijon mustard
1 tbsp honey
1 small clove garlic, crushed
salt & freshly ground black pepper

For the sandwich:

A 2-3cm fat ribeye steak (approx. 225g weight)
1 tbsp olive oil
A little sea salt & freshly ground black pepper
2-4 shallots, finely sliced (for a summer version, replace the shallots with a handful of peppery watercress leaves)
2-3 cooked beetroot, sliced
a ciabatta loaf, cut in half & sliced open

What you do:
Firstly, make the dressing by putting everything in a small jar with a tight fitting lid. Shake well until thoroughly mixed and season to taste with salt and freshly ground black pepper.
Heat the oil in a heavy based frying pan until smoking hot. Season the steak on both sides with a little salt and freshly ground black pepper. Lay the steak in the pan and fry, undisturbed, on one side for 2-3 minutes. Flip over and fry on the other side for a further 2-3 minutes. For a 2-3cm thick piece of meat these timings should give you a medium steak. Cook a little less for rare, a little more for well done. Remove the steak and allow to rest on a warm plate tightly covered in foil.
Add the shallots to the frying pan and fry for a few minutes over a medium high heat until softening and beginning to caramelise. Remove to a plate and keep warm.
Lay the ciabatta, cut side down, in the frying pan and toast lightly for a minute or two.
Slice the steak into 1cm wide strips across the grain and divide between 2 pieces of ciabatta. Top with the sliced beetroot and fried onions. Drizzle over a little of the dressing and cover with the top of the ciabatta. Serve immediately.
Any leftover dressing with keep in the fridge for at least a week.
This page can be found at: http://secretsauce.co.uk/meat-poultry/steak-recipes/warm-steak-and-beetroot-sandwich/
A short link can also be used: http://bit.ly/O1piv2
lovebeetroot

Beetroot is enjoying something of a revival as people discover there's more to this great British vegetable than they thought. You can now buy beetroot in so many different ways – raw, cooked, marinated, lightly pickled - there's so much to beetroot than the jar of pickled beetroot many of us will remember from our childhood.
More from lovebeetroot

The infused beetroot in this dish makes for a lively and flavour-packed lunch. The sweet potato will keep you going right through the afternoon.

A delicious, healthy smoothie with a ginger kick

The aromatic taste of juniperberry & black pepper-infused beetroot is wonderful tossed through this salad which makes for a substantial lunch or light supper.
Popular in steak recipes

A juicy, tender steak with a traditional peppercorn sauce and an added chilli kick, ready in just 10 minutes

To celebrate its 35th birthday this year, Beefeater has released four exclusive and, until now, secret recipes using four of their most popular sauces so you can recreate the ultimate steak eating experience at home

To celebrate its 35th birthday, Beefeater has released four exclusive and, until now, secret recipes using four of their most popular sauces so you can recreate the ultimate steak eating experience at home