Rogan Josh lamb biriyani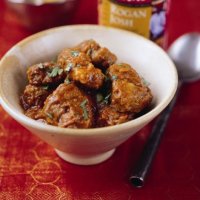 Brown Brothers Tarrango is a light-bodied, vibrant, fruity red which served chilled, is ideal with Geeta's Rogan Josh Lamb. With its fresh acidity and light tannins, Tarrango cuts through the richness of this delicious dish, which is a blend of tomatoes and spices with yoghurt.
What you need:
300g Lamb cut into cubes
1 jar Geeta's Rogan Josh Spice & Stir cooking sauce
200g rice (wash a few times in water and drain)
2 small onions fried until brown
1/2 teaspoon of saffron soaked in 1/2 cup milk
10 - 15 mint leaves (chopped);
2 tablespoons of oil
1 tsp cumin seeds
10 almonds
10 cashews
1 tbsp of raisins
What you do:
Make the lamb according to the instructions on the jar of Geeta's Rogan Josh Spice & Stir cooking sauce. Set aside.
Heat oil and add cumin seeds. Add the rice and stir fry and then add enough water to one inch above the level of the rice, and bring to the boil. Leave to simmer for 10 - 15 mins until rice is almost cooked and all the liquid has dried up.
Take a baking dish and grease the bottom. Put half
the rice at the bottom of the baking dish, add 1/2 the mint leaves and 1/2 the nuts and fried onions and all the lamb mixture.
Layer the remaining rice, mint leaves, nuts and fried onions to the top of the lamb mixture. Sprinkle the saffron milk on top of the rice.
Cover with foil and bake in a moderate oven for 15 - 20 mins.
Serve with Geeta's chutneys and a yogurt raita and a glass of slightly chilled Brown Brothers Tarrango.
Handy tip:
To truly appreciate this refreshing red wine, enjoy it young and fresh. Quick cucumber raita recipe. 1 medium tub - natural yogurt. 1/2 cucumber cut into very small cubes. Whisk yogurt with salt and 1/2 to 1 tsp sugar (to taste). Add cucumber and 1/2 tsp cumin powder, 1/2 tsp red chilli powder (optional). Garnish with
chopped coriander leaves and 1 tablespoon of pomegranate seeds (optional).
This page can be found at: http://secretsauce.co.uk/meat-poultry/indian-recipes/rogan-josh-lamb-biryani/
A short link can also be used: http://bit.ly/eWXo91
Geeta's and Brown Brothers
Geeta's
and
Brown Brothers
are family-run businesses and both share a passion in creating genuine, authentic flavours. Brown Brothers produces the widest varietal wine range in the world - creating an award-winning array of inspirational styles.
More from Geeta's and Brown Brothers

Serve with Brown Brothers Chenin Blanc, which has a touch of sweetness that tempers the heat of a spicy dish like this

Enhance the flavours of this delicious Mangalorean kebab dish with Brown Brothers Sangiovese wine
Popular in indian recipes

This recipe is a wonderful starter or snack and taste great with homemade dips. It can easily be made for vegetarians by substituting the lamb with mashed potatoes.

One of the world's most popular Indian dishes is chicken korma, famous for its mild and creamy taste - replace the chicken with prawns if you wish

A mouth-watering lamb burger, which is simply bursting with flavour and perfect for cooking on the barbecue or for a warming winter meal