Spicy bat wings with fruit bat dip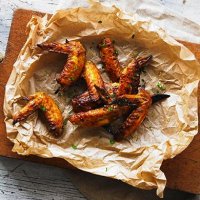 A delicious finger lickin' treat for children at Halloween. Served with the mango yogurt dip it's a great way to encourage children to enjoy new flavours while eating something healthy too! Marinating the chicken in yogurt keeps the chicken moist and tender and complements the spices perfectly. Any leftovers are ideal for packed lunches.
Cooking: 40 mins
Serves: 4
What you need:
For the wings:
200g (7oz) Yeo Valley whole milk natural yogurt
1tbsp honey or agave nectar
2tbsp tomato ketchup
2 garlic cloves, crushed
1tsp fresh ginger root, grated
1tsp chilli powder
2tsp ground cumin
2tsp ground coriander
1tsp turmeric
1kg (2lb 2oz) organic chicken wings
For the Fruit Bat Dip:
1 ripe mango, peeled and chopped
200g (7oz) Yeo Valley organic natural yogurt
1 red chilli, deseeded and chopped finely
1tsp black mustard seeds
Handful of fresh coriander leaves, chopped
What you do:
Method For the wings:
Preheat the oven to 220°C, gas mark 7.
Combine the yogurt, honey, tomato ketchup and spices in a large bowl. Add the chicken and toss to coat all over. Cover and refrigerate for 1-2 hours or overnight.
Place the chicken in a single layer on an oiled wire rack placed inside a large shallow baking dish. Roast uncovered in the oven for 35-40 minutes or until the chicken is well browned and cooked through. Turn the chicken half way through cooking to ensure an even golden brown colour. Serve with the Fruity dip.
Method for the Dip:
To make the dipping sauce, place the mango, yogurt and chilli in a bowl. Heat the mustard seeds in a small frying pan and fry for 1-2 minutes until they start to pop. Stir into the yogurt dip with the coriander leaves. Chill until required
Cook's tip:
Quick Tip: For a really speedy version simply mix the yogurt with 3tbsp of tandoori paste and use to coat the chicken.
Nutty Variation: If your children like coconut why not toast a little desiccated coconut along with the mustard seeds and add to the dip.
This page can be found at: http://secretsauce.co.uk/meat-poultry/halloween-recipes/spicy-bat-wings-with-fruit-bat-dip/
A short link can also be used: http://bit.ly/VyEnHE
Skandi Candle
Pure soy wax candles in Flack Fig & Vetiver or Lemon fragrances - perfect for any dinner party or romantic night in.
Yeo Valley Organic
<a href="http://www.yeovalleyorganic.co.uk/">Yeo Valley Organic</a> is part of a family-owned farming and dairy business that's based in Somerset. Today Yeo Valley Organic is Britain's most successful and best known organic dairy company.
Popular in halloween recipes

If you fancy serving up something different to traditional bangers and mash, why not try this version of this tasty dish. With lashings of brown sauce, you can even reinvent it for Halloween as a spooky fingernail wrap!