Easter Hot Cross buns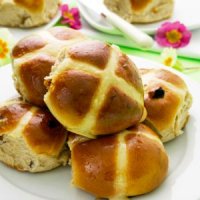 One a penny, two a penny… Hot Cross Buns are a real Easter treat for every member of the family. So this year, why not put a fresh twist on an old classic and try out a new Hot Cross Buns recipe with SPLENDA.
What you need:
500g strong plain flour
1-2 tsp salt
2tsp mixed spice
2tsp cinnamon
8g SPLENDA Granulated
14g easy blend yeast
200ml warm milk
1 large egg, beaten
50ml sunflower oil
125g mixed dried fruits
Paste for Cross:
2tbsp plain flour
3tbsp milk
1tsp oil
Glaze
2tbsp water
2tbsp SPLENDA Granulated
What you do:
Sift the flour, salt and spices into a mixing bowl then sprinkle in the SPLENDA Granulated and yeast.
Make a well in the centre then pour in the milk, egg, oil and fruit and mix together to make a smooth dough.
Turn onto a floured surface and knead for about 5 minutes until smooth and elastic. Place in a bowl, cover with a damp cloth and leave to rise in a warm place for about 2 hours until doubled in size.
Turn onto a floured surface and knead for a further 2 minutes. Divide into 10 equal pieces, shape into buns and place on a greased baking sheet. Cover and leave in a warm place until doubled in size again.
To make the paste put the flour in a small bowl and gradually stir in the milk and oil to make a smooth, thick batter. Spoon into a small piping bag fitted with a 5mm plain nozzle and pipe a cross on top of each bun.
Bake in a preheated oven at 200C (400F), Gas Mark 6 for 15-20 minutes until golden brown.
To make the glaze put the Splenda and milk into a small pan, bring to the boil and simmer for 1 minute. Brush the buns with the glaze as soon as they come out of the oven. Transfer to a cooling rack and allow to cool a little before serving.
This page can be found at: http://secretsauce.co.uk/cakes-desserts/easter-recipes/easter-hot-cross-buns/
A short link can also be used: http://bit.ly/wh3voz
Splenda

A simple swap, like using SPLENDA® instead of sugar, means that you can enjoy this new twist on a family favourite at a fraction of the calories. SPLENDA® Granulated measures and sweetens spoon for spoon like sugar and can be used almost anywhere sugar is used, making it easy for people to make a healthier choice every day without compromising on great taste. In addition, simply switching from sugar to SPLENDA® Sweet Minis in your hot drinks can save 90 calories a day – an easy switch and a small step, but one that can add up to make a big difference in the long run.
SPLENDA® Granulated and Sweet Minis are available in all major retailers. For more information on the product, and for tips on cooking and baking, please visit – www.splenda.co.uk or www.facebook.com/SplendaUK.
More from Splenda

A delicious pancake recipe with a twist

With Pancake Day just around the corner, what could be better than using up your fridge fail-safes to whip up a batch of delicious raspberry pancakes?

A healthy and great tasting pancake recipe
Popular in easter recipes

Use this basic biscuit mix for delicious Easter biscuits and let your imagination run riot with the decoration

A traditional Easter recipe with a deliciously indulgent twist that all the family can enjoy.

Delicious eclairs - decorate them with the kids for a fun activity with a sweet treat at the end!