Chocolate Easter carrot cake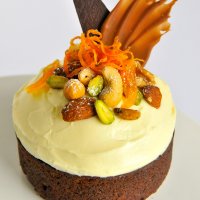 A traditional Easter recipe with a deliciously indulgent twist that all the family can enjoy.
Preparation: 15 mins
Cooking: 30 mins
Serves: 8
What you need:
2 Eggs
210ml Macadamia nut oil (or vegetable oil)
80g Lindt Excellence 70%
180g Caster sugar
245g Plain flour, sifted
5g Bicarb soda
2g Baking powder
Pinch Sea salt
1/2tsp Ground cinnamon
1/2tsp Mixed spice
60g Sultanas
65g Dried apricots, chopped
What you do:
Place a small amount of the oil in a saucepan along with the 80g of Lindt Excellence 70%. Gently heat until the chocolate is melted.
Combine the eggs, sugar, oil and the chocolate mixture in the bowl of your electric mixer. Give it a quick stir.
Mix in the dry ingredients until they are fully coated. Stir in the fruit, carrots and nuts and lastly stir in the chocolate chunks.
Transfer the cake mixture into a greased and lined baking tin and bake for 25-30 mins at 180o until a skewer comes out clean. Allow to cool fully before icing.
For the icing, soften the cream cheese and lemon in an electric mixer with a paddle attachment. Mix in the melted Lindor truffles and allow to set.
Finishing touches
Generously top the carrot cake with the cream cheese mixture and decorate with some roasted mixed nuts, some chocolate decorations, a dust of icing sugar.
You can now enjoy and share with your loved ones the perfect Easter Chocolate Carrot Cake!
Cook's tip:
Be creative with your decorations. Lindt Gold Bunnies will turn this beautiful cake into a fun recipe for the kids!
This page can be found at: http://secretsauce.co.uk/cakes-desserts/easter-recipes/chocolate-easter-carrot-cake/
A short link can also be used: http://bit.ly/HYWREM
Lindt

Lindt & Sprüngli is recognised as a leader in the market for premium quality chocolate, offering a large selection of products in more than 100 countries around the world.
Creating fine chocolate is an art that requires great skill, dedication and passion, and the Master Chocolatiers of Lindt are masters of this craft. Since 1845, they have developed and refined their unique secret recipes with absolute devotion, resulting in the Lindt Chocolate Culture. Attention is lavished on Lindt chocolate making - starting with the selection of the finest raw materials and highest quality ingredients, and culminating in their final exquisite creations.
More from Lindt

These little chocolatey delights are easy to make as a family and truly scrumptious!
Popular in easter recipes

Use this basic biscuit mix for delicious Easter biscuits and let your imagination run riot with the decoration

Delicious eclairs - decorate them with the kids for a fun activity with a sweet treat at the end!

These cakes look so pretty, but if you make a nice arrangement out of them, don't expect them to be around for long!