Baby leaf curly kale pasta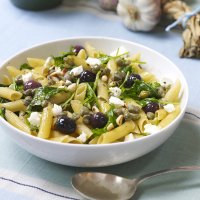 If you're bored of your usual pasta recipe, try this one - it contains chilli to add heat and capers, olives and goat's cheese burst with flavour in every mouthful
What you need:
500g penne
175 g Baby Leaf Curly Kale
3 tbsp olive oil
1 green chilli [finely chopped and deseeded]
2 cloves of garlic [crushed]
3 tbsp capers
1 cup black olives
50g pine nuts
2 tbsp lemon juice
100g goats' cheese
What you do:
Cook the pasta as according to instructions.
Heat the olive oil in a pan, add the garlic and chilli and sauté for 2 minutes.
Add the Baby Leaf Curly Kale and continue to sauté till wilted.
Toss in the pasta, olives, capers and pine nut and mix well.
Finally add the lemon juice and crumble in the goats' cheese.
This page can be found at: http://secretsauce.co.uk/pasta-rice/kale-recipe/baby-leaf-curly-kale-pasta/
A short link can also be used: http://bit.ly/flL9yj
Baby leaf curly kale
Baby leaf curly kale is a leafy vegetable rich in vitamins A and C and contains more calcium than traditional curly kale.
More from Baby leaf curly kale

This is a great recipe for using up leftovers and it's ready in just 25 minutes so a good one to choose for your evening meal

It's raining outside and you fancy something warm, spicy and filling, so warm yourself up with this delicious chorizo and baby leaf curly kale soup!